Wiley has double-double in Team USAU17 debut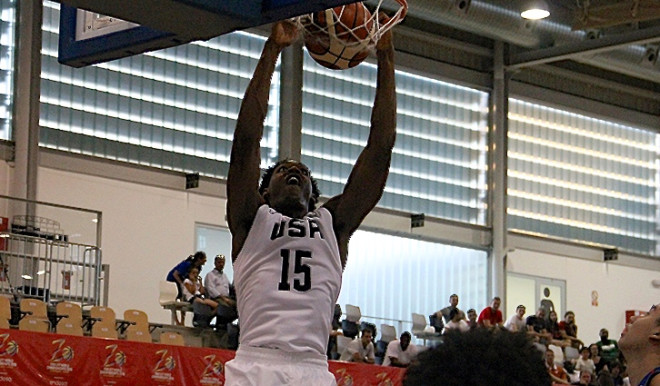 Auburn five-star commitment Austin Wiley had a double-double in 12 minutes during Team USAU17's 119-45 win over Taiwan Thursday in the first game of the Men's U17 World Championship in Zaragoza, Spain.
Wiley, a soon-to-be senior at Spain Park in Hoover, Ala., scored 12 points on 5-of-8 shooting and finished with a team-high 11 rebounds.
"It was really exciting, high energy," Wiley said. "It was just amazing."
Team USAU17 started the game with a 16-0 run and stretched its lead to 58-22 late in the first half.
"We just decided that we had to up the tempo and realize that we're playing more than our opponent," Wiley said. "We're playing for ourselves and our country. We were trying to keep the tempo high and play great 'D' and play the best we can."
Tampa (Fla.) Catholic's Kevin Knox led all scorers with 15 points, and was one of seven Team USA players to score double-figures. Wendell Carter finished with 14 points, Troy Brown and Collin Sexton both scored 13 points, Wiley had 12, Carte'Are Gordon scored 11 and Markus Howard finished with 10 points.
"The whole team played great," Wiley said. "Wendell (Carter) played great. Gary (Trent) played great, everybody off the bench, Jaren (Jackson) played great, our point guards, on the wings, everybody played great all around. Everybody played their role."
Winners from the round of 16, which begins June 28, advance to the medal round quarterfinals on June 30. The semifinals will be played on July 2 with finals following a day later on July 3.