Wiley enrolls at Auburn
AUBURN | An already young Auburn team just got younger, and better.
Five-star center Austin Wiley has been cleared to enroll at Auburn and will be eligible to practice and play immediately.
"I am extremely excited to announce that Austin Wiley has been deemed a qualifier by the NCAA and has been admitted and enrolled in Auburn University," Auburn coach Bruce Pearl said. "He will compete for Auburn starting against Mercer on Sunday. We look forward to having Austin be a part of and play for the Auburn Tigers just as his parents did.
"I want to thank the SEC, NCAA, President Gogue, Jay Jacobs and all of those in the Auburn administration for all of their due diligence."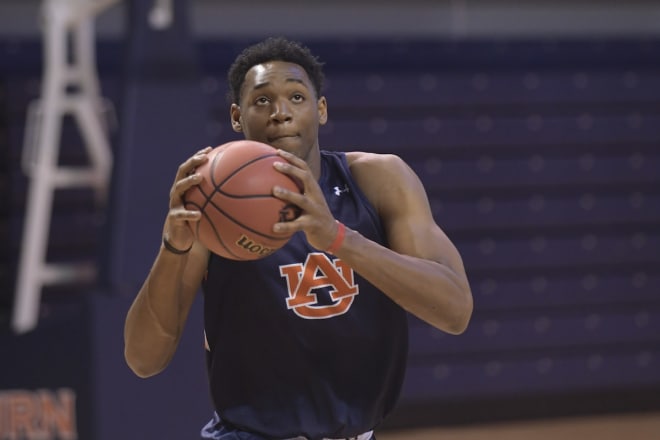 Wiley, who is rated the nation's No. 16 overall prospect by Rivals.com, is the son of former Auburn players, All-American Vickie Orr and Aubrey Wiley.
"It feels great. I feel really blessed right now," Wiley said. "My hard work and dedication has paid off. Thanks to my parents and coaches. I feel great. I grew up around here listening to stories my mom and dad would tell me about Auburn. This is a blessing, and it seems like everything works out for the best. It feels like destiny."
Wiley, 6-foot-11 and 255 pounds, attended Conrad Academy in Orlando, Fla., this fall in order to graduate early and enroll at Auburn in December. He averaged 22 points and 12 rebounds per game as a junior at Spain Park in Hoover, Ala.
Wiley played on the Team USA's gold medal winning team at the U17 world championships in Spain this summer.
Wiley is the second five-star in school history to sign with Auburn. The first, Mustapha Heron, is one of three freshmen starting for the Tigers this season.
Heron and Wiley have played with each other in pickup games.
"He brings a true five to Auburn," Heron said. "Definitely more size and physicality."
Wiley is part of a 2017 signing class that Rivals ranks No. 7 in the nation. Signees Davion Mitchell and Chuma Okeke are scheduled to enroll next summer.