Two AU commits bond during visit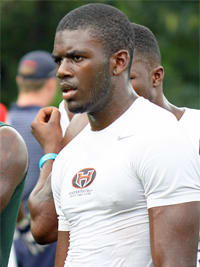 Hoover (Ala.) wide receiver
Jaylon Denson
is already committed to Auburn, after picking up an offer at the Auburn camp a week ago he jumped on the opportunity.
So when Denson visited Auburn again this past weekend, it was a chance to meet with some current players, but more importantly, hang out with a fellow Auburn commitment in Springdale (Ark.) Shiloh Christian quarterback
Kiehl Frazier
.
"It was good," Denson said. "I got meet (Kiehl) Frazier, some of the guys, got to talk to Troop and Malzahn. It was fun."
It was Denson's first chance to meet with his quarterback of the future, and surprisingly, football was rarely the topic of discussion. The two future Tigers just "chilled", rather than get too in depth with what their football future holds according to Denson.
"It was cool hanging with Kiehl," Denson said. "We got a little relationship going, we kind of hit it off. We just sat around and watched movies, played Playstation, stuff like that. Just create a friendship, we didn't really get to deep with football."
With the soon to be quarterback-receiver combination having a good time and getting to know each other, it was Frazier's humble attitude that is what Denson appreciated the most.
"Yea, most definitely," Denson said about hitting it off with Frazier. "Kiehl is a real good dude, I like him. When we first started talking, I was like, 'this guy is real cool'. Some people of that caliber would be real cocky, but he wasn't like that. If he didn't tell you he was the number two quarterback in the country, you wouldn't even know it."
This wasn't a business trip for either commit, it was more a chance to not only hang out with each other, but get to know some current players and get a feel from them on how the program is run. Denson and Frazier just got finished playing in the National Select 7-on-7 tournament in Hoover, Alabama, so both guys just headed down to Auburn for a day to relax.
"They just sat around with us and played Playstation," Denson said. "We just played NCAA football on PS3. It went back and forth between everyone on who was better."
Hoover and Shiloh didn't get a chance to play each other in the tournament. Frazier and Shiloh Christian were knocked out early in the elimination rounds, while Hoover was knocked out in the quarterfinals of a tournament they won last year.
Denson says he's really looking forward to coming back to Auburn in the fall for a game, as well as seeing his dad soon. While serving in the Army, Denson said his dad only gets one "pass" a year to return home, and will return for Jaylon's graduation.
A topic of discussion between many since Denson committed to Auburn is regarding his ranking, and whether or not he's an overlooked player. There are many players that focus on what they are ranked, but that hasn't seemed to bother Denson. According to him, it only matters what happens on the football field to determine whether you are any good or not.
"I don't," Denson said about paying attention to his rankings. "Truth be told, to me rankings don't matter. You could be ranked and be overrated. To me, what matters is what you do when the time comes, and someone is lined up against you, so rankings don't matter to me."