Thompson Time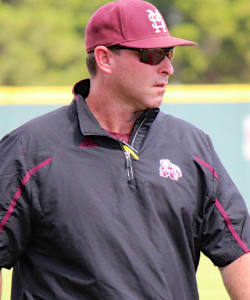 [rl]

AUBURN | Butch Thompson is returning to the Plains with a bigger title and bigger expectations.
The former Auburn pitching coach, who has been at Mississippi State since 2009, on Thursday agreed in principle to become the Tigers' next head coach. He succeeds Sunny Golloway, who was fired last month.
Thompson, 44, is known throughout the Southeastern as a top-tier recruiter who also is popular with players for his straightforward-yet-diplomatic approach. He served as Tommy Slater's pitching coach at Auburn for three seasons beginning in 2006 and left the Plains with a legion of well-wishers who hoped one day to see him coaching the home team inside Plainsman Park.
That's no longer a pipe dream.
"This is the perfect time for all who love Auburn University to embrace our current and future players," Thompson said. "Starting today, we will begin to define an identity that will make every Auburn man and woman proud of their team on and off the field. I want to personally reach out to every baseball alumni and fan and let you know we need and want you now more than ever. This is a worth-while task best done together."
Thompson, a Mississippi native, played at Birmingham-Southern and spent time there along with stints at Huntingdon College, Jefferson State and Georgia before moving to Auburn nine years ago. His best move as an Auburn assistant was turning Evan Crawford, a failed starter, into an outstanding college reliever who eventually pitched in the big leagues.
Thompson was fired after the 2008 season along with the entire coaching staff and soon caught on at MSU, where he consolidated progress and became an elite pitching coach. Six of his MSU pitchers have been drafted in the first 10 rounds of the MLB Draft since 2009.
The Bulldogs were among national ERA leaders during the 2012 and 2013 seasons.