Surging JUCO OT: 'Auburn is my No. 1'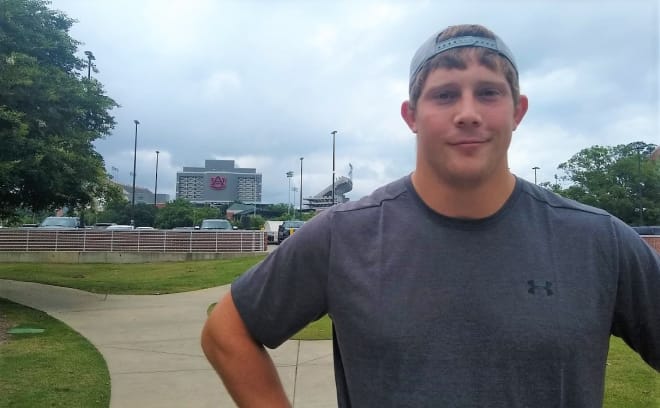 A recent trip to a Power-5 program left a bad taste in Brenden Coffey's mouth.
A JUCO offensive tackle whose recruitment has rapidly surged as of late, Coffey took an unofficial visit to Cal before coming to Auburn this weekend, and the Golden Bears didn't exactly pass with flying colors in his eyes.
"They just kind of walked me around," Coffey said. "It didn't really seem legit. It didn't seem like they were taking it as seriously as they could have."
Admittedly, Coffey was then skeptical about his upcoming official visit to Auburn — or any school, for that matter.
But according to Coffey, he couldn't have been happier on the Plains this weekend.
"It was amazing," Coffey said. "It was more than I ever could have expected, really. I came here not really knowing what I was going to get, but it was overwhelming and astounding overall.
"I liked the homey feeling it had. Everyone was super close with each other. When I was walking around everything just felt really natural."
Expected to graduate in December and enroll in a program where he will have three years to play two seasons, Coffey is a 6-foot-6, 275-pound junior college left tackle — though he said he's shot up to 6-foot-7 recently.
Coffey defines himself as an aggressive player on the field, and a fast learner off it. As a JUCO product looking to continue to rise and improve, Coffey has a grip on his weaknesses, as well.
He said he's looking to improve his footwork and fundamental hand techniques next season, adding that some aspects of playing tackle don't come as naturally to him because of his length.
But that size and athleticism — combined with his production as a freshman at Butte Community College (Oroville, Calif.) — has caught the eye of several major college football programs.
Coffey said he currently has offers from Arizona, Nevada, UCLA, Oregon, Utah and Auburn — though none have made as sizeable of an impact thus far as offensive line coach J.B. Grimes and the Tigers have.
"I came here, and they just had so much personality and life to them," Coffey said. "That made it really easy to be like, 'Wow. I want to be here.'
"Auburn is my No. 1 right now… I'm actually kind of sad that I'm leaving."