Stancil: Woodruff took Calloway to Florida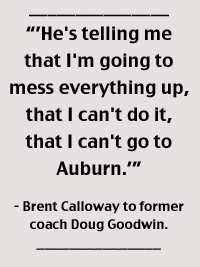 Allegations raised by AuburnSports.com Thursday regarding improprieties in the recruitment of
Brent Calloway
brought to light the actions of an Alabama "supporter", who TideSports.com later identified as Darren Woodruff.
Woodruff allegedly took Calloway, a star player at Russellville (Ala.) High School, to Pensacola, Fla. for two nights following an official visit to Alabama the weekend of Jan. 28-30.
According to Woodruff's long time friend John Stancil, Woodruff picked Calloway up in Tuscaloosa on Sunday (Jan. 30) and drove the top recruit to Florida before returning to Russellville Tuesday night, the night before National Signing Day.
Stancil said Woodruff claims he took Calloway to Florida at the request of Calloway's adoptive father Harland "Peaches" Winston. Woodruff, who Stancil considers a "big Alabama fan", is the president of Petro Chemical Energy in Muscle Shoals.
According to Stancil, Woodruff rented a two-room suite in Pensacola where Woodruff and Calloway spent Sunday and Monday nights. Woodruff told Stancil about the trip during a phone conversation.
"(Woodruff) told me Peaches asked him to take Brent out of town … that Brent needed to go somewhere to think about stuff," said Stancil. "He took Brent down there (to Pensacola) and brought him back to Peaches' house Tuesday night."
Calloway signed with Alabama the following morning, Feb. 2.
Woodruff told TideSports.com Saturday that he had a relationship with Calloway since Calloway's ninth-grade year at Russellville. Calloway transferred to Russellville from Florence High that year.
"Listen, I'm a Brent Calloway fan," Woodruff told TideSports.com. "I don't care where he goes to school. I just want him to get an education. I told him when he originally committed to Alabama, 'I'm happy for you. I hope you made the right choice.' When he switched to Auburn I said, 'I'm happy for you. I hope you made the right choice.'
"Wherever Brent was going to school, I was going to watch him play. I just want him to be happy."
According to Stancil, Woodruff drove Calloway to Alabama for "nearly all of the home games" during Calloway's junior year. Woodruff did not take Calloway on any other visits besides ones to Alabama, Stancil said.
In an extremely efficient investigation, the University of Alabama's compliance department, within 36 hours after the allegations were first made public Thursday, found no violations in Calloway's recruitment, reported TideSports.com.
Calloway initially committed to Alabama in June 2009, but switched his commitment to Auburn at the U.S. Army All-America Bowl in January 2011. Calloway remained firmly committed to Auburn until the occurrences leading up to signing day.
"I haven't second guessed myself at all since I made my decision," Calloway said in a story published Jan. 28 on AuburnSports.com regarding his switch to the Tigers. "I have no doubts. I'm totally comfortable with it."
Calloway's comments about his decision to sign with Auburn were made days after he took an official visit to Auburn and two days before his visit to Alabama. At the time of his comments, Calloway did not plan to visit Alabama. Instead, a return trip to Auburn had been scheduled.
Calloway did not decide to visit Alabama until Friday, according to Calloway's high school coach Doug Goodwin. Goodwin said Calloway told Alabama recruiter/coach
Jeremy Pruitt
that Thursday that he was declining an official visit to Tuscaloosa that weekend and would instead return to Auburn for an unofficial visit.
Goodwin, now head coach at Homewood, said Pruitt approached him during the Alabama Football Coaches Association convention, held at Embassy Suites in Montgomery Jan. 27-29, and requested to talk to Calloway.
"He walked up to me and wanted to know if Brent wanted to come to Alabama that weekend," said Goodwin. "I told him, 'Coach, Brent told me he didn't want to come.' But Pruitt told me he wanted to hear it from Brent."
Goodwin said he agreed to meet Pruitt in the hotel lobby at 2:30 Thursday afternoon.
"I met him and got Brent on the phone," said Goodwin. "I said, 'Brent, Coach Pruitt wants to talk to you and he wants you to tell him how you feel.'
"(Pruitt) gets on the phone with Brent and says, 'Brent, we want you to come to Tuscaloosa this weekend.' Brent said, 'Coach, I don't want to come. I'm going to Auburn.' Pruitt said, 'Are you sure?' Brent said, 'I'm sure.'"
According to Goodwin, Pruitt then asked if Calloway would tell Alabama coach
Nick Saban
.
"Pruitt told Brent, 'Coach Saban is on a flight right now, but it will land soon. I'm going to call you back and I want you to tell Coach Saban the same thing you told me so he won't chew me out and will know that I did my job," said Goodwin. "Brent said, 'Okay.'"
Approximately an hour later, Goodwin said Calloway had informed Saban.
"Brent said he had talked to Saban and told him that he wasn't coming," said Goodwin. "Brent said, 'He tried to talk me into it, but I told him I wasn't going.'
"About 11:30 that night, Brent texted me back saying, 'Coach, I gotta go (to Alabama this weekend). My daddy (Peaches) is making me go, but I'm not changing my mind. I am 100-percent sure (about signing with Auburn).'"
Goodwin said that was the last time he was able to contact Calloway before signing day.
Calloway did not attend school the following Monday or Tuesday because, according to Stancil, he was in Pensacola with Woodruff. Russellville principal Tim Guinn excused Calloway from school.
Goodwin said he tried to contact Calloway Monday night, but was unsuccessful.
"Brent doesn't show up for the basketball game Monday night so I called Peaches and asked him where Brent was, why he wasn't at school or the basketball game," said Goodwin. "Peaches said, 'Coach, he's in his room, locked up in his room and won't talk to nobody.'
"I said, 'Will you just tell him to call me because I want to talk to him and make sure he is okay' and Peaches said, 'Coach, I'll tell him, but I don't know if he will call.'"
The next time Goodwin spoke to Calloway was Wednesday morning. Calloway arrived at Russellville High with several family members by his side and announced that he had decided to sign with Alabama. Calloway had already signed his National Letter of Intent before arriving at Russellville for the signing ceremony.
"It was the first time in 27 years that I didn't fax in the scholarship papers for one of my players," said Goodwin.
Calloway's decision to sign with Alabama came less than a month after his commitment to Auburn. Calloway announced on national television during the U.S. Army All-America Bowl Jan. 8 that he was switching his commitment from the Tide to the Tigers. He said then that his projected position at Auburn, running back, was one of the many factors in his switch.
"I just weighed out my options and I feel more comfortable," Calloway told Rivals.com while in San Antonio, Texas for the All-America Bowl. "I felt more comfortable running the ball and I looked at the depth, I looked at all the aspects you're supposed to look as an athlete going to a college and to make a life decision for four years.
"After I weighed out everything, it was Auburn. It feels right for me. I haven't second guessed it. It just feels like something I needed to do."
Rivals.com rated Calloway the top prospect from Alabama and the No. 38 prospect in the country.
Calloway's commitment to Auburn during the All-America Bowl was not well received by several members of Calloway's family, Woodruff told Stancil.
"Peaches, his wife, Brent's mother, his grandmother and his aunt were there," said Stancil. "(Woodruff) said you didn't see it on T.V., but they all got into it on the sidelines because Brent was decommitting from Alabama and committing to Auburn.
"His mother was not happy and neither was Peaches. Brent told his mother right before he made the announcement that he wasn't doing it for her; he was doing it for himself."
According to a story in The Birmingham News days after the announcement, Peaches did not agree with Calloway's actions.
"I'm from the old school," Peaches told The News. "When you shake a man's hand, look him in the eye and make a commitment, you stick to that commitment. I respect him and I'm going to root for him. But I don't think he handled it the right way."
In the same interview, Peaches said he liked Alabama coaches' business-like approach.
"They stick to business," he said. "You don't see their coaches high-fiving."
According to Goodwin, Calloway knew before committing to Auburn that Peaches might not be in full support of his decision.
"Brent told me Thursday night when I got to Texas (for the All-America Bowl) that he was going to decommit from Alabama and announce he was going to Auburn," said Goodwin. "I said, 'Are you sure?' He said, 'Yes.' I said, 'Have you told the Alabama coaches?' He said, 'No.' I said, 'Well, you need to call (then-Alabama recruiting coordinator Curt) Cignetti and tell him before he sees it on T.V.'
"I then asked him, 'What about your dad? Have you told Peaches?' He said, 'I've told him, but he won't listen to me. He's telling me that I'm going to mess everything up, that I can't do it, that I can't go to Auburn.'"
Three weeks later, after the trip to Pensacola with Woodruff, Calloway didn't. He instead signed with Alabama.