Sleeper DE commits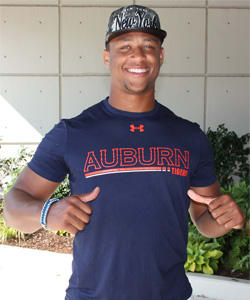 AUBURN, Ala. |
Daquan NewkirkClick [rl]Here
to view this Link. didn't know a lot about Auburn before he arrived for a two-day visit Wednesday. And not a lot was known about the talented defensive end from First Academy in Orlando, Fla., who isn't currently rated by Rivals.com.
But that's about to change.
Newkirk committed to Auburn Thursday morning, shortly after being offered by Auburn coach
Gus Malzahn
. Assistant coach
Scott Fountain
is his lead recruiter.
"It was just the coaching staff and the way they conduct themselves around their players and the way they love on one another. It's just a brotherhood around here," Newkirk said. "They're Christ-led. What can I say, they're good people, good quality people."
Newkirk, 6-foot-3 and 252 pounds, chose the Tigers over more than 15 other offers including Alabama, Kentucky, Cincinnati, Illinois, Louisville and Pittsburgh.
"I'm extremely blessed. I'm very excited for what's upcoming for me," he said.
Newkirk visited Auburn along with his coach and a teammate, offensive tackle
Tre Johnson
. Both played together at Evans High School before transferring to First Academy last year.
For Newkirk, his recruitment, which was just getting started, is now over. He doesn't plan to visit any other schools.
"I'm done," he said.
Auburn recruited Newkirk as a defensive end. He had 42 tackles, three tackles-for-loss, three sacks, two forced fumbles and one interception in eight games as a junior. He scored four touchdowns as a running back in First's spring game last month.
Newkirk is Auburn ninth commitment and only current defensive line commit.