Purifoy progressing but out for Kentucky
AUBURN | Danjel Purifoy will miss his second-straight game at Kentucky Saturday.
The freshman forward injured his left ankle in the second half of a loss to Ole Miss Jan. 7 and missed Auburn's road win at Missouri Tuesday.
"He is out of the boot and moving around and progressing faster than we thought when originally diagnosed. He will not travel to Kentucky," Auburn coach Bruce Pearl said.
Pearl played four players at Purifoy's 4 position against Missouri including Anfernee McLemore, who started and played 14 minutes. Also working at power forward were LaRon Smith, Devin Waddell and TJ Lang.
It was a unique experience for Lang, who is a shooting guard by trade.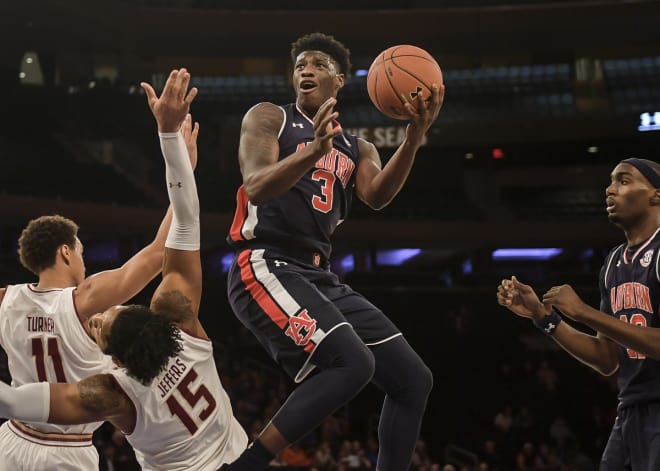 "It's different but I actually kind of like it though," Lang said. "Especially in the offensive end, it's kind of a mismatch especially at the four. Being at the four, you have a lot of control over where you go in the offense and it's been fun. It's been different."
Auburn is not the same team without Purifoy in the lineup. The redshirt freshman leads the team in minutes played per game and is second averaging 13.7 points and 5.8 rebounds.
"Danjel is instant offense and we he doesn't have it going offensively, he can do what he did in the UConn game, grabbing 15 rebounds so he's versatile offensively and defensively so he's a nightmare matchup for any team at the four position. Losing him really hurts us and we've got to find a way to hold it down until he comes back," Lang said.
Tip-off at Rupp Arena is scheduled for 3 p.m. CT on ESPN.
"It's always fun to go to Kentucky and play," Lang said. "The atmosphere is going to be crazy. We're a young team so we're going to be tested early so we've got to come out with as much intensity as possible. We've got to hit them in the mouth first."