Purifoy grabs offer, AU moves into top two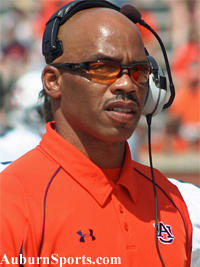 Despite being unranked, Pensacola (Fla.) Pine Forest cornerback
Loucheiz Purifoy
has picked up some pretty big time offers so far. Already holding an offer from Florida, Purifoy received an offer from Auburn on Saturday at their senior mini camp, and then received an offer from Alabama on Monday.
That pushes his offer list up to seven according to Purifoy.
Purifoy said he always has one goal when participating in camps, and that's to earn a scholarship offer. Something he accomplished at Auburn on Saturday.
"The camp went good, I got an offer. It felt real good," Purifoy said. "I think like that all the time. I go in and try to get an offer, and if I don't, I go back and try again."
This past weekend was Purifoy's first trip to Auburn, and he was impressed with what he's seen so far. While the depth chart was something that stands out in Auburn's favor, it was head coach
Gene Chizik
's track record on academics that stood out to Purifoy.
"Coach Chizik was a cool, laid back guy," Purifoy said. "When I asked how many kids he had graduate before their senior year, he said they had thirteen last year, and then they had thirteen this year. They were graduated before their season year. I also look at depth chart, and that's where Auburn comes into play. They have a senior and a junior, and the junior may go pro this year. If he doesn't go out this year, he's gone next year, so that's a big deal."
Auburn running backs coach
Curtis Luper
has been Purifoy's main recruiter, and defensive backs coach
Phillip Lolley
is now beginning to recruit Purifoy for the Tigers as well.
"Coach Luper is cool, I talk to him a lot," Purifoy said. "The first time he saw me, he said, 'dang man, you're long'. He came and watched me practice, and I was supposed to come up here earlier but I couldn't make it. Then coach Lolley said he's going to be recruiting me highly."
The 6-foot, 175-pound prospect already held an offer from Florida, and the Gators remain Purifoy's number one. With the recent Auburn offer though, the Tigers moved into a solid second, and Alabama is now third with their offer on Monday.
"Florida leads, Auburn is number two, and Alabama is third," Purifoy said.
Purifoy plans to be at Florida's Friday Night Lights this week, and didn't rule out the possibility of a commitment.
"I haven't made up my mind yet," Purifoy said. "It's a possibility, but I may not."
Even though Florida has been Purifoy's leader, he says Auburn is a school that will remain the mix, regardless of whether he commits this weekend or not.
"They are already in the mix with me," Purifoy said. "With the thirteen early graduates and the Jim Thorpe Award winners coach Chizik has had. Even if I committed, I still want to take my official visits this fall and enjoy the process. I know Florida, Auburn, and Alabama, I'll take official visits too. I just don't know the dates yet."
While Purifoy is visiting Florida this weekend, they may not be his last stop before his high school season starts. Purifoy says he is going to try and make it back to Auburn in a few weeks so he can take his mom to see the campus and the coaches before his first game on September 4th.
"I'm going to Auburn with my mom," Purifoy said. "They want to meet my mom. I have to call coach Luper and make a date. It will probably be before my first game of my season. I just want to bring her up and feel the vibe."
Purifoy has played mostly offense for his high school before this season, playing wide receiver and running back. This season, in addition to playing cornerback, he will likely play some quarterback as well.