Not hurting, but not helping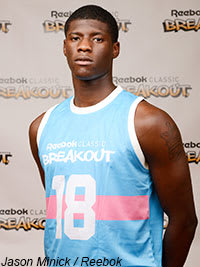 [rl]

AUBURN | Bruce Pearl's first season at Auburn hasn't been as successful as he'd hoped, but the 12-19 regular season record and 4-14 SEC mark hasn't diminished his hope for the future.
More talent, better talent, is on the way.
Pearl and staff signed four players in November, one being Rivals150 strong forward
Danjel Purifoy
, and added center
Trayvon Reed
to the team a month later. Power forward
Horace Spencer
, Auburn's highest-ranked commitment in the 2015 class, plans to sign in April.
Rivals.com ranks Purifoy the No. 81 overall prospect in the class. Spencer ranks No. 62. The two were big reasons Auburn signed a top-15 class in 2015.
Auburn's 2016 class is expected to be small, possibly signing as few as two. But Auburn already is in great shape with its No. 1 target, Madison (Ala.) Academy Rivals150 four-star guard
Joshua Langford
. Auburn also is in great shape with five-star
Austin Wiley
, four-star
Jamal Johnson
, three-star
Elias Harden
, and several more top targets from the 2017 class.
"So far there has been almost very little negative feedback in recruiting because of our season," Pearl said on Monday. "Most of it has been positive because of the (fan) support we have received and how hard the kids are playing.
"Could it have been a boost? Yeah. A better year could have really jumped us up in recruiting and could have really helped us. If things don't work out, the rest of this 2015 class or 2016 class, it won't just be because we didn't have a great year in 2015. It could have helped us, but I don't think it has hurt us much."
For a glimpse of what Auburn will be getting in both Purifoy and Spencer, check out the video linked below, which was tweeted out earlier today by Purifoy…