Northern exposure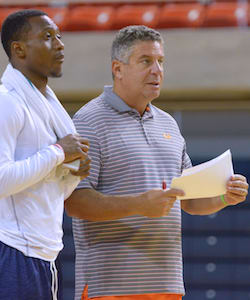 [rl]

The destination is north of Auburn.
The Tigers' coach on Friday said he's been working on rekindling an annual showcase event in Birmingham -- much like the Arby's Hardwood Classic of yesteryear -- that he believes would help extend and enhance Auburn's reputation throughout the state. He also wants to play UAB, possibly in a separate trip to Jefferson County, and already has set up a neutral-site game against Middle Tennessee State in Nashville.
He doesn't want to stop there.
"We have got to be able to recruit Huntsville, we have got to be able to recruit Birmingham, we have got to be able to recruit Montgomery and Mobile -- and we have to be able to recruit this state," Pearl said. "Plus, neutral site games are worth more in the RPI. Plus, they are tournament-like. They have a tournament feel. Part of our reasoning for playing in Nashville is it's where we are going to play in the SEC Tournament. I want to get on that floor as much as we can."
Pearl was in Birmingham on Thursday to watch the AHSAA state tournament. While he was there, he visited the Southeastern Conference office to speak with men's basketball czar Mark Whitworth.
"He continues to look at an Alabama-Auburn, Birmingham neutral site," Pearl said. "So where (else) could we go? Could we go to the west coast with Stanford and Cal? Could we go to Charlotte with a couple of ACC teams or even Atlanta? He is searching and looking at that. I think it would be great to do. I think Anthony Grant is in favor of playing an Auburn-Alabama neutral site game, but it is up to the SEC office. They are working on trying to find those two teams who might do it somewhere."