More Florida connections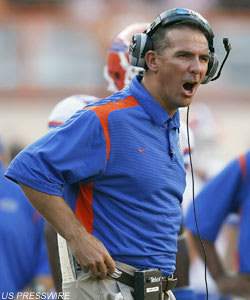 AuburnSports.com continues to investigate connections with the University of Florida and multiple media outlets in recent attempts to degrade Auburn quarterback
Cameron Newton
's integrity.
The latest allegations regarding Newton come from FOXSports.com writer Thayer Evans, who claimed a single source informed him Newton "had three different instances of academic cheating while attending the University of Florida and faced potential expulsion".
The allegations came four days after Evans wrote a column encouraging Heisman voters not to vote for Newton, the heavy front-runner to win college football's most prestigious individual award.
Evans' column ran hours after ESPN.com and The New York Times ran stories Thursday claiming a former Mississippi State quarterback, John Bond, alleged a former teammate solicited money from MSU in exchange for Newton's signature on a letter of intent.
Evans, according to his bio on FOXSports.com, previously wrote for The New York Times.
Following the initial allegations of wrongdoings in the recruitment of Newton, AuburnSports.com reported Florida coach Urban Meyer encouraged the allegations be made public to the media during a three-way telephone call with Bond and Mississippi State head coach Dan Mullen.
AuburnSports.com has also discovered a connection between Florida and the leaking of the recent cheating allegations to the public.
Alex DeLaet knew about the allegations Nov. 4, four days before the story ran on FOXSports.com.
DeLaet posted Thursday on Rivals.com's "Main Board" message board: "Apparently the truth is coming out sometime in the next few days. Apparently (Newton) got caught cheating in class."
DeLaet posted early Tuesday morning hours after the FOXSports.com report on the allegations of Newton cheating was published, "Aubs (Auburn fans), sorry to tell you that I was right."
When asked how he knew in advance, DeLaet wrote, "I have a very good source at UF."
He later edited his statement to read, "I have a very good source."
When reached by AuburnSports.com Tuesday, DeLaet, who resides in Omaha, Neb., declined comment.
DeLaet's brother, Eric DeLaet, works in the video department of the University of Florida's football program.
Attempts to reach Eric DeLaet for comment were unsuccessful.