Visit to Auburn 'personal' for No. 7 RB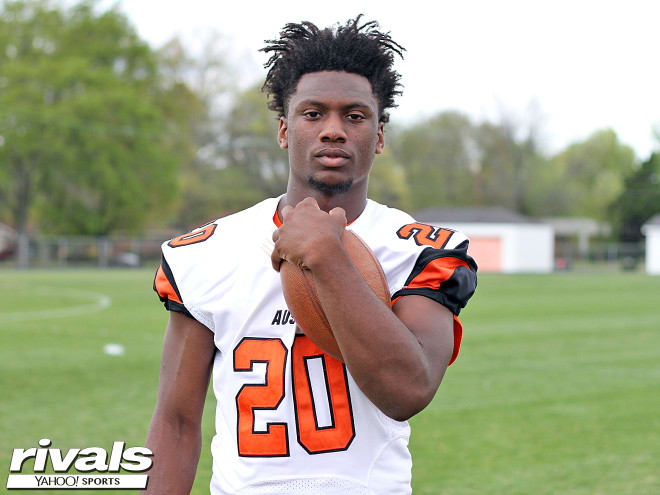 Asa Martin visited Auburn on Saturday, but the No. 7 running back in the 2018 class wasn't there to see the facilities or tour the campus.
For Martin, who is from Austin High in Decatur, the visit was personal.
"I got to sit down with the coaches and just talk to them," Martin said. "It didn't feel like being a recruit. It was regular conversation, just talking and getting to know each other better as people."
Martin, his mother and younger brother started the half-day visit by meeting with Gus Malzahn and wife, Kristi.
"Meeting with them was amazing," Martin said. "I got to really talk to them, and they didn't hold anything back. They were open with everything, answered all the questions. It went really good. Me and my mom really enjoyed talking to them. They are really nice people."
Martin then met with offensive coordinator Chip Lindsey, who showed the running back how he would be used in the Tigers' new scheme.

"Coach Lindsey showed me the offense and how they're starting to throw the ball more to the running backs," Martin said. "I like that. I got to find out everything about the program, the offense and I got a lot of my questions answered."
Martin capped the visit by meeting with running backs coach Tim Horton, who also serves as Martin's area recruiter.
"He's a football guy," Martin said. "He's crazy about football, and also a really cool guy, a really good guy. Me and Coach Horton are pretty close."
Martin previously listed Florida his leader with Auburn a close second, but after Saturday's visit, he's not so sure he has a true No. 1.
"I wouldn't say anybody really has a lead, not big enough to mention," Martin said. "Alabama has come on a little bit lately, so I've added them to the mix. Auburn, Florida and Alabama are all real tight."
Martin plans to visit Florida again this summer, and he'll return to Auburn for Big Cat on June 3.
"Auburn has a home feeling," Martin said. "I've been there a bunch of times. My relationships with the coaches have really grown the past couple months, and my mom's relationships with them have grown, too. Auburn is a beautiful place with a beautiful campus."
Martin plans to announce his commitment in August, possibly Aug. 24, which is a day before Austin opens the season against Walker.
"I'll probably end up making it the day before my first game," Martin said. "It could change, but that's my plan right now."
As a junior, Martin, playing at IMG Academy in Bradenton, Fla., had 49 carries for 372 yards (7.6 avg.) and four touchdowns. He also caught 17 passes for 235 yards (13.8 avg.).
Rivals ranks Martin, who stands six feet tall and weighs 190 pounds, the No. 4 overall player in Alabama and No. 121 in the Rivals250.