Malzahn on penalties: 'We're an undisciplined team'
AUBURN | Auburn was the second-least penalized team in the SEC last season and the least penalized the year before. Through three games this season, it's the complete opposite.
The Tigers are last in the conference and 121st nationally with 84.0 penalty yards per game. AU has committed 25 penalties, 8.3 per game, for a total of 252 yards.
"Well, right now, we're an undisciplined team as far as penalties are concerned. That disappoints me," Auburn coach Gus Malzahn said. "But here's the deal: that starts with me and it ends with me. I think I said this two weeks ago—we've always taken great pride in being a disciplined team in that area, and so really, we have to coach them better. We're going to do that. We're aware of it, and we're addressing it."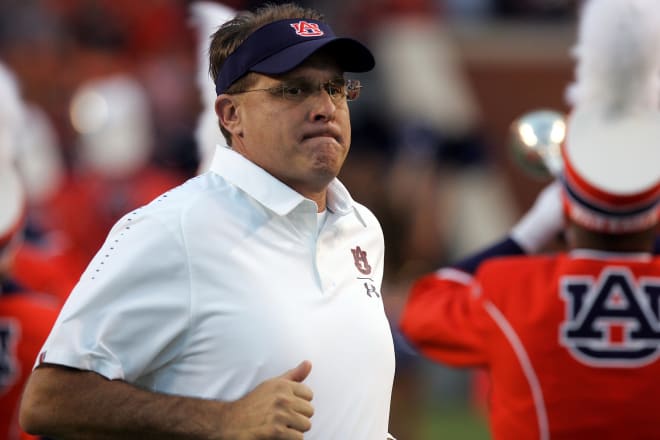 The penalties were costly in Auburn's loss to LSU at home Saturday. Two holding calls killed AU's final two drives of the game while two pass inference calls allowed LSU to drive 52 yards on 14 plays on its final possession and kick a game-winning 42-yard field goal.
AU has committed five pass interference penalties this season. They've been flagged a total of seven times but Washington declined two.
"It's frustrating because it's not something that we do. We've got to correct that. That's not Auburn football. That's not how we want to play at all," senior linebacker Deshaun Davis said. "The things that we're doing wrong on the technique end of it, we have to fix because obviously it's hurting our team on the defensive side of the ball and on the offensive side of the ball. It's something we pride ourselves on and we just have to find a way to get better at it."
Malzahn insisted that he stressed the issue with penalties in practice since the opener against Washington but so far, it hasn't brought about positive results.
"Yeah, we have. But obviously, it didn't carry over," Malzahn said. "So as a coach, you've got to figure out the next step to do, and we've got a good plan for that. There's no doubt in my mind that we'll get back to playing good, disciplined, Auburn football like we know we can, like we have in the past."
No. 9 Auburn hosts Arkansas Saturday at 6:30 p.m. CT on the SEC Network.