Making the Case: Wanya Morris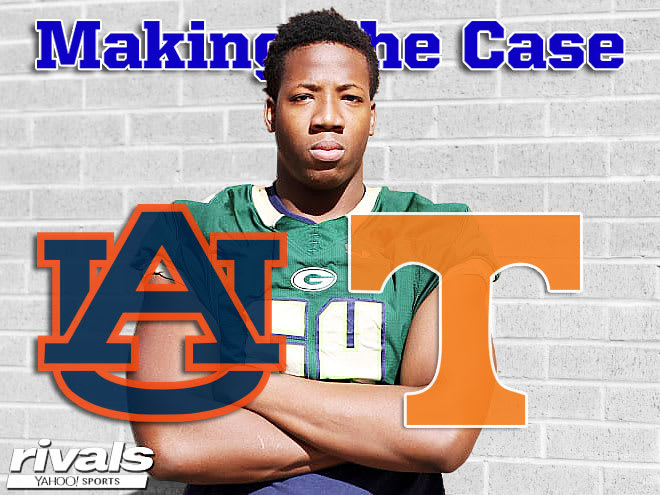 The 2019 class is on the clock and several of the nation's top players have begun to cut their lists in advance of a commitment announcement.
Today, experts from the Rivals.com network examine where four-star offensive tackle Wanya Morris might end up playing his college football. The candidates are Auburn and Tennessee.
THE SITUATION
Morris is the No. 3 offensive tackle in the country, so he is one of the most coveted prospects in the 2019 class. He was at one time committed to Florida State, but since he re-opened his recruitment, Georgia, Florida, Oklahoma and LSU have made runs at him.

There are only two left standing though with a commitment coming May 1, and those are Auburn and Tennessee. He has visited each campus numerous times over the last couple of months, each staff has made him a priority and the end is near. With a decision coming into focus we asked our team experts to state the case for their respective programs and let National Recruiting Director Mike Farrell issue a verdict.
AUBURN
"Morris arguably is the top overall recruit/target on Auburn's board in 2019. The Tigers haven't signed an offensive tackle since the 2017 class. Offensive tackle no longer is a "need" for Auburn. It's a must-have. Morris has visited Auburn numerous times and is tentatively scheduled to return this weekend for an official visit. That could bode well for the Tigers should he visit. It also doesn't hurt Auburn's chances to have Morris's friend and offensive line teammate, Jakai Clark, committed." – Jeffrey Lee, AuburnSports.com
TENNESSEE
"While momentum has seesawed between Auburn and Tennessee over the last month, the Vols have routinely held pole position. Morris has been visiting Tennessee since he was 8-9 years old. The previous staff made Morris a priority, but when Jeremy Pruitt and Will Friend got to town, they aggressively targeted the offensive tackle as one of the key 'must-gets' in the 2019 class. Morris' family is very comfortable with Knoxville and Tennessee's new staff. The thin depth chart and early opportunity for playing time has been UT's simplest selling point. The Vols got the final visit and Morris seems ready to end his recruitment." – Jesse Simonton, Volquest.com
THE VERDICT
"I'll go with Auburn because of the familiarity he has with the staff from so much interaction and how he feels he will fit and be utilized there." -- Mike Farrell, Rivals.com