Looking ahead, looking back at Big Cat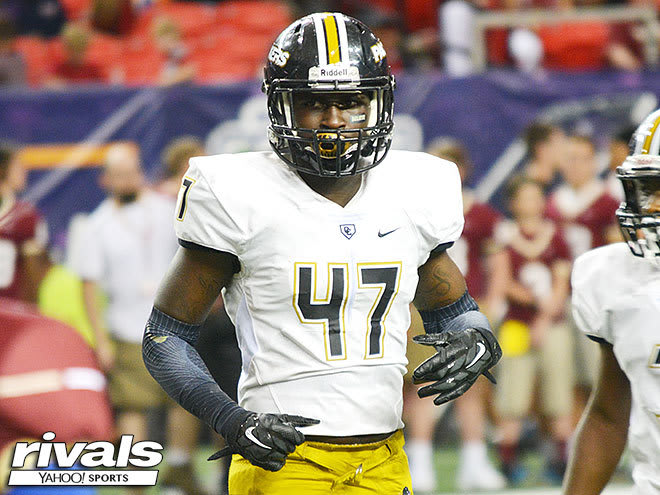 Saturday will mark the ninth straight year for Auburn's Big Cat, a day which quickly became one of the most important ones for the Tigers since its debut in 2009.
Approximately 35 of Auburn's top targets are expected to attend this year's version of the event. The day will include games, lots of food, fun and fellowship.
The preliminary list of visitors for Big Cat 2017 is full of star power.
Five of the top in-state players are expected to attend, including five-star receiver Justyn Ross, Rivals100 running back Asa Martin and four-star defensive lineman Coynis Miller. Auburn commitments Kameron Stutts and Kolbi Fuqua will be at Big Cat, as will Hoover wide receiver Shedrick Jackson, Mountain Brook athlete Harold Joiner, Mobile Christian defensive end Andres Fox and Pleasant Grove athlete Myles Mason.
The list of expected out-of-state visitors includes Jerome Carvin, a four-star offensive tackle from Cordova, Tenn. The state of Georgia will be well-represented as a pair of Rivals100 linebackers, Zakoby McClain and JJ Peterson, both plan to attend, as do four-star athlete Kyler McMichael and safety Quindarious Monday, two of Auburn's top targets from the Atlanta area.
From Florida, Rivals250 wide receiver Jacob Copeland, cornerback Juanyeh Thomas and safety Jamien Sherwood plan to attend, as does Joseph Foucha, one of the top players from Louisiana.
** BIG CAT 2017 PRELIMINARY LIST **

HISTORY OF BIG CAT

The first Big Cat event was held May 29, 2009, which was during Gene Chizik's first year as Auburn's head coach and Gus Malzahn's first year as Auburn's offensive coordinator.
Curtis Luper, who doubled as the Tigers' running backs coach and recruiting coordinator at the time, first pitched the idea to Chizik.
"Coach Chizik kept saying that we needed to be different, to bring him ideas of what we could do to be different," Luper, now at TCU, told AuburnSports.com in 2011. "I put the idea out there and we all just ran with it."
Brainstorming the idea with Luper included a core group of highly-respected recruiters: fellow Auburn assistants Trooper Taylor, Tommy Thigpen and Jay Boulware.
"We wanted to do something really different, really unique that would stick and have some name recognition," Luper said.
The brainstorming resulted in the birth of Big Cat.
SUCCESS OF BIG CAT
Auburn signed the No. 4 recruiting class in 2010, with nearly half of the signees attending Big Cat.
The second year was even more successful.
Of Auburn's 24 signees in 2011, a class ranked No. 7 by Rivals.com, 13 attended Big Cat. The group included Greg Robinson, the No. 2 pick in the 2014 NFL Draft, as well as Reese Dismukes, a consensus All-American, Remington Trophy winner and starter of 50 games at Auburn.
The success continued.
In February, Auburn signed a top-15 class, a group that included 21 high school players. Eleven of the 21 attended Big Cat, including former five-star offensive tackle Calvin Ashley, who attended two (2015 and 2016).
In 2015, defensive tackle Derrick Brown attended Big Cat. So did Kyle Davis, Nate Craig-Myers and Marlon Davidson, all former five-star recruits, and Tre Threat and Elijah Stove, both four-star recruits. All played at Auburn last year as freshmen.