Gross wins homerun derby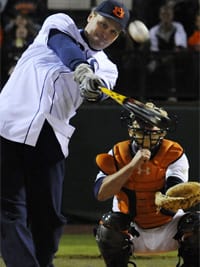 Gabe Gross cranked out a total of 26 home runs to win the annual Home Run Derby but the real winner on the night was the Boys and Girls Club of Greater Lee County as over $5,000 was raised for the club through donations from fans and sponsors at Plainsman Park on Friday night.
An event record $5,044.75 was raised at the annual event, which was sponsored by Ted Bryant of Farmers Insurance, Locos Grill and Pub, Chick-fil-A and Country's BBQ and drew 1,715 fans through the gates.
Gross, who was an All-American outfielder for the Tigers, hit 15 home runs in the first round, equaling current Tiger Kevin Patterson's output, while Ryan Jenkins and David Ross each advanced to the finals with nine homers.
In the final round, Gross knocked out 11 homers.
Other celebrities to take part in the home run derby were Bo Jackson, Tim Hudson, Frank Sanders, Coach Hal Baird and Todd Jones.
In the team scrimmage following the home run derby, Brian Fletcher hit two solo home runs and Creede Simpson stroked three doubles to power the offenses. Jon Luke Jacobs threw four shutout innings to lead the visiting Tigers over the home Tigers, 8-6.