GRIND: Planning visits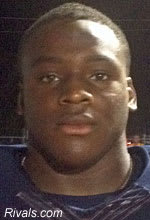 [rl]


Viera (Fla.) three-star receiver
Tre Nixon
received an Auburn offer.
Nixon, 6-foot-1 and 170 pounds, learned of the offer on Tuesday after speaking with Auburn offensive coordinator Rhett Lashlee and defensive coordinator Will Muschamp, who Nixon knew from Florida.
"I called and talked to Coach Lashlee and he and Coach Muschamp gave me the good news," Nixon said. "I was definitely excited and very thankful, too.
"Auburn's offense speaks for itself, and they definitely like to throw deep, which is one thing Coach Lashlee stressed to me. I love to use my speed and go deep."
Nixon has been clocked at 4.38 seconds in the 40-yard dash. As a junior, Nixon had 43 receptions for 1,065 yards and 13 touchdowns. He averaged 24.8 yards per catch.
Nixon has dozens of scholarship offers and plans to visit as many schools as possible before making a decision. One visit, he said, would be to Auburn.
"I haven't been to Auburn, but that's one thing Coach Lashlee and I were talking about," he said. "I want to visit several schools and I'm talking to my mom right now about the dates, trying to finalize them.
"I don't have any favorites. I want to take some visits before I start narrowing things down, but I'll definitely visit Auburn."
***********
McKinney North (McKinney, Texas) Rivals250 strongside defensive end
Justin Madubuike
also received an offer from Auburn this week and now plans to visit.
Madubuike, 6-foot-3 and 245 pounds, spoke to Muschamp on Monday and learned of the news.
The unexpected, but good news.
"I called and talked to Coach Muschamp and he told me I had an offer," Madubuike said. "I was pretty surprised about it, but I was excited about it, too.
"It's a great offer for me. Auburn is a great overall program and I respect it a lot. I will be looking at Auburn hard, for sure. I definitely plan to visit Auburn at some point."
Rivals.com ranks Madubuike the No. 12 strongside defensive end, the No. 27 prospect in Texas and No. 212 overall recruit in the 2016 class.