Georgia OL commits to Auburn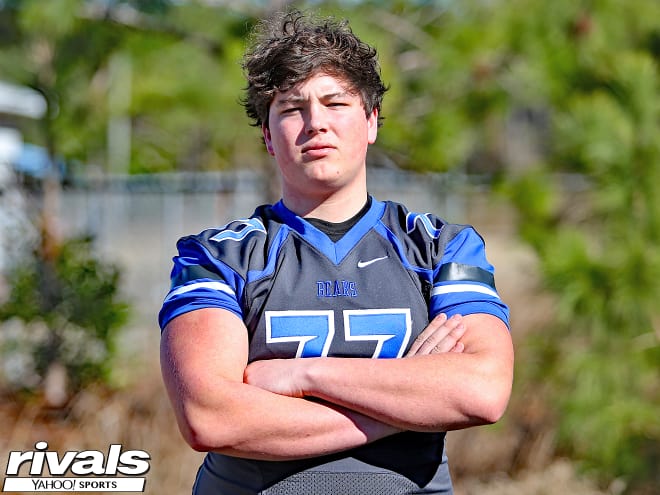 AUBURN | Auburn has added its fifth commitment and first offensive lineman to its 2020 class.
Pierce County (Ga.) offensive center/guard Avery Jernigan announced Thursday night that he plans to sign with Auburn.
"I'm committed," Jernigan said. "It's exciting. I don't know how much sleep I'll get tonight because I'm so excited."
Jernigan informed Gus Malzahn and offensive line coach J.B. Grimes of his decision. Jernigan and Grimes have developed a strong bond over the past year.
"(Grimes) has been the main one recruiting me and I love him," Jernigan said. "He's a very down-to-earth person. He's going to shoot it straight with you and he's going to tell you the truth. If he says something he means it. That's what stuck out to me about him. I really like Coach Grimes."
Jernigan also likes the feel at Auburn.

"Just the Auburn family," Jernigan said. "The fist time my family and I stepped on campus we could feel it. Our first-ever Auburn game was the LSU game and we could feel the family atmsophere around that place. The family feel you get there is the biggest part of why I wanted to be there."
Jernigan, who is 6-foot-3 and weighs 290 pounds, chose Auburn over offers from Florida State, South Carolina, Nebraska, Kentucky, Mississippi State and Vanderbilt, among others.
Jernigan's commitment to Auburn comes five days after his most recent visit. Jernigan was one of several juniors at Auburn's Junior Day on Saturday.
"I went to the basketball game against Alabama and that's when I knew for sure that Auburn is where I want to be," Jernigan said. "I love the atmosphere, the family feel at Auburn."
Jernigan said he still could visit other colleges in the coming months, but has no doubts he'll sign with Auburn.
"We may visit other places, but me and my family know where we want to be, and that's Auburn," Jernigan said. "We've put a lot of thought and prayer into this decision and we've made up our mind. Auburn is a firm decision."
Jernigan joins wide receiver Kobe Hudson, linebacker Demouy Kennedy, defensive tackle Demarjhe Lewis and defensive end Daniel Foster-Allen in Auburn's 2020 class.
Jernigan is on pace to graduate high school in December.