Gaulden commits to Auburn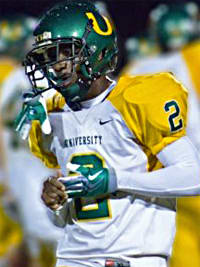 Auburn has picked up a commitment from a rising star in Ft. Lauderdale (Fla.) University cornerback
Devin Gaulden
.
"I committed to Auburn," Gaulden confirmed.
The 5-foot-10, 177-pound prospect jumped on the Auburn offer after an impressive camp performance over the weekend. With offers from Wake Forest, Duke, Wisconsin, and more, Auburn was the biggest offer to date for Gaulden, something he jumped on immediately.
Auburn defensive backs coaches'
Tommy Thigpen
and
Phillip Lolley
have recruited Gaulden to Auburn, and it was coach Thigpen who talked Gaulden into coming to the camp after previously not planning on making the visit.
"It was my first trip there," Gaulden said. "At first, I wasn't even supposed to go to the Auburn camp. Me and coach Thigpen spoke and he wanted me to come to the camp. I went, we toured the school with some other Florida guys, I really loved the school. It's a great family atmosphere. I love the coaches, coach Lolley, coach Trooper, and coach Thigpen.
"I like the town, it's not a big town. It's a family town and it's a place where you can't get in trouble and you can focus on football and school. I love coach Lolley and coach Thigpen, they can develop my skills and get me to the next level."
Gaulden enjoyed the competition, especially going up against two of Auburn's newest commitments.
"It was great competition, two of the receivers there committed to Auburn, it was great," Gaulden said. "I could see myself playing there for the next three or four years."
Even though Gaulden is relatively unknown to the recruiting world, Auburn head coach
Gene Chizik
saw all he needed to see at the Auburn camp and offered soon after.
"I spoke to coach Chizik right after the camp, and he really loved my game," Gaulden said. "They called me the next day and offered me over the phone. I knew once I got the offer I was going to commit to Auburn."
This past season was actually Gaulden's first to play football. A standout basketball player playing both shooting and point guard, Gaulden made the move to football and hasn't looked back.
"This was actually my first year of playing football," Gaulden said. "I was a basketball player before that, a combo guard. I wanted to play football my tenth grade year, but I couldn't. A lot of people were telling me I had a lot more potential playing football than basketball. One of my high school coaches saw me playing and really liked my game. I gave up basketball now, I love football, I'm strictly football."
Although Gaulden only has one year of football under his belt, he believes the sky is the limit in terms of what he can do in the future.
"I think I have a vast amount of potential playing corner, I think it's just the tip of the iceberg," Gaulden said. "Last year, I just played off of athleticism and athletic ability. I had some ups and downs, and I only played five games due to injury. But this past summer, I've just been getting better and getting my skills better. I think I can play with anyone in the country."
Gaulden's stock is sure to rise during his senior season, and will certainly begin to garner more interest from schools across the southeast, but he says he is solid to Auburn and can't wait to take in a game at Jordan-Hare Stadium.
"I may visit some other schools, but I'm solid to Auburn," Gaulden said.