Former MSU OL, Mom: Rogers not good source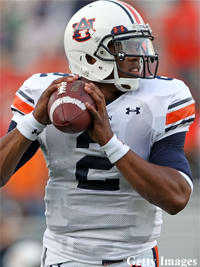 Former Mississippi State football player Kenny Rogers appeared on a Dallas radio station Thursday and alleged Cam Newton's father, Cecil Newton, attempted to solicit money from Mississippi State for his son's commitment.
The allegations against Newton don't have much credibility, according to Gussie Pollard and her son Michael Brown, a former lineman at Mississippi State.
Not when the allegations are coming from Rogers.
"I'm telling you, Kenny Rogers, that person cannot be trusted," said Pollard. "Whatever Kenny Rogers says is not truthful."
And she bases her opinion off of first-hand knowledge.
Brown, her son, was a four-star defensive/offensive lineman that signed with the University of Florida in 2004. Two years later, Brown, not happy with playing time, transferred to Mississippi State. He started five games as an offensive tackle in 2006 and all games in 2007.
But his SEC career got off track during the spring of '08. Brown and backup defensive tackle Quinton Wesley were kicked off the team for their involvement in an on-campus incident involving handguns.
Brown, who went home to College Park, Ga. after leaving Starkville, had a year of eligibility remaining and was looking to use it at another university.
That's when Rogers entered the picture.
"(Rogers) introduced himself as a MSU alumni and said he was with the NFL (Players Association)," said Pollard.
That was enough for Brown to listen to Rogers' advice.
"I thought I was in the right hands," Brown said. "I just went with the flow."
According to Brown, Rogers advised him to enroll at Alabama A&M instead of his originally-planned destination, Jacksonville State.
Pollard said Rogers was "very forceful".
"Kenny just kept pushing him, coming at Michael like a pit bull," Pollard said. "He came after Michael. It was crazy."
Brown thought he would be able to join A&M's team without issue because he was working on a master's degree. But two days before the 2008 season-opener, the NCAA informed Brown that he was not cleared to play.
Brown eventually signed with an agency based out of Scottsdale, Ariz. after he left Alabama A&M. Yet again, Rogers began contacting Brown and tried to sway him from his then-agent Ethan Locke.
Pollard and Brown said Rogers misrepresented himself in the process.
"(Locke) was a very good person," Pollard said. "Kenny (Rogers) again posed himself as an NFLPA agent and said that (Locke) was this, was that, all kinds of negative stuff."
Trusting Rogers' advice and influence, Brown ended up signing with Chicago-based agent Ian Greengross, who Rogers claimed to work for, according to Pollard.
Efforts to reach Rogers for comment Thursday were unsuccessful. Voice mails left at the Elite Football Preparation office, where Rogers has been listed as a "recruiter", as well as one to his attorney, Douglas E. Zeit's Waukegan, Ill. office, were not immediately returned.
Rogers and Greengross are currently subjects of an investigation by the NFLPA for misrepresentation, according to an ESPN report.
"Mr. Rogers posed himself as a national NFLPA person," Pollard said. "He wasn't that. He basically kept making calls to my son and had my son go with Ian Greengross' (agency)."
Brown, who was once projected to be a third or fourth-round draft pick, said signing with Greengross was a bad choice and eventually hurt his chances at the NFL.
"That was definitely not a good move, personally, not for me agent-wise," Brown said. "It wasn't a good move."
Pollard said her personal experiences with Rogers discredits anything he has to say, including allegations about Newton.
"I know Mr. Rogers comes at you very strong," Pollard said. "I know Kenny Rogers is not a rightful person.
"He personally told me he was in the NFLPA, and he would say things like, 'We're going into a meeting right now. Oh, we're this ... oh, we're that.' And this guy was none of that."
Pollard is aware of the allegations Rogers has made against Cecil Newton, but doesn't believe them to be true. Not when they are coming from Rogers, she said.
"If Kenny Rogers wasn't tied to (the allegations), I would say, 'Well, maybe (they are true),'" Pollard said. "If it wasn't Kenny Rogers, 'maybe', I would say. But it's from Kenny Rogers? That man is not a good source.
"Someone really needs to investigate Kenny Rogers. Kenny is very persuasive. That man is just sleazy. He's no good. He's not a truthful person.
"He is not to be trusted."