Force multiplier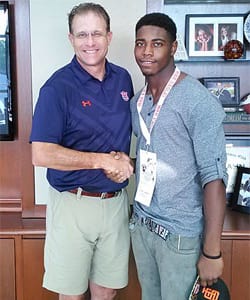 "Last year was his coming out party and I think his first game he might have put out two kids off of slant routes," Stone Mountain (Ga.) Stephenson assistant coach Corey Johnson said.
Gonzalez, who committed to Auburn Saturday, has already established himself as an enforcer in the secondary.
"The amount of force this kid comes with from a 10-yard radius should be illegal," Johnson said. "He has the hitting ability of a linebacker at safety."
But Johnson insists you shouldn't underestimate Gonzalez's coverage ability.
"He can cover as well. He's got great speed," he said. "And he's going to be a big kid. Right now, he's sitting at 6-1, 6-2 and he's just a junior."
Off the field, Johnson describes Gonzalez as a "good kid" that takes accelerated classes.
He chose the Tigers over offers from Ohio State, South Carolina and Kentucky. Auburn offered Gonzalez following a camp in July. He returned with his father to watch the Tigers practice Saturday, announcing his commitment afterwards.
"He did his due diligence in terms of deciding what he wanted from a school and who he wanted to play for," Johnson said. "Once it was set in stone that they wanted him, it was almost like it was a no-brainer for him."
Auburn has recruited a number of Stephenson players over the years but Johnson couldn't remember the last time Auburn signed a player out of the metro Atlanta school. "He might be the first," he said.
A search of the Rivals.com database, which goes back to 2002, doesn't show an Auburn signee from Stephenson. Johnson credited
Dameyune Craig
for ending the drought.
"The difference is Coach Craig does a good job getting involved with the players," he said. "A lot of coaches come in and just talk about what they feel is the best thing for the kid, going to the NFL, you can do this or do that. I think Coach Craig takes a different approach and it pans out for him."
Gonzalez is Auburn's fourth commitment for the 2017 class.
Gonzalez's Sophomore Highlights