Family important to Georgia d-end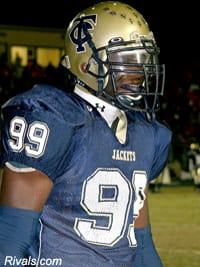 There's busy, and then there's the schedule that Thomasville (Ga.) Thomas County Central defensive end
Ray Drew
has been keeping lately.
Drew just finished up a family vacation to the state of Florida for a week, is currently in the state of North Carolina for an FCA function for a week, and will be heading to Williamsburg, Virginia for the Top Gun All-Star camp July 21-24.
It won't get easier for Drew, as the time is quickly approaching when coaches will begin to call Drew more often and he knows it's about to get crazy.
"September 1st is rolling around pretty quick and I'm getting a little scared," Drew said with a laugh. "I'm not looking forward to trying to manage all those calls."
The 6-foot-5, 243-pound prospect says he's already had to cut back who he calls because he's running up large phone bills. With right at 30 scholarship offers currently, Drew says the attention has caught him off guard, but he appreciates it.
"I never thought I was that good, I just went out and played the game," Drew said. "I don't see myself as any different than anyone else, but I'm glad people think that highly of me."
One school that thinks very highly of Drew is Auburn. The part time church pastor and youth mentor visited the Plains for Big Cat Weekend at the end of May and came away impressed with Auburn, and head coach
Gene Chizik
.
"The location is good, and with the coaching staff that coach Chizik has put in place, they are a strong school right now," Drew said. "I'm looking to see what they do this year and what direction he's going to take the program in. If they continue to improve, you'll have some good things come out of that."
Drew recognizes that coach Chizik is only heading into his third season as head coach, but understands that every successful coach in history has to have a starting point.
"As far as the coach being proven, or having already won trophies, it has to start somewhere," Drew said. "Bobby Bowden didn't just come out winning 300 games in a row, he had to start somewhere. You can't just knock someone because he's a young coach."
Chizik seems to have made an impression on Drew with not only his on the field progress, but what he represents off the field as well. Chizik and the Auburn program have impressed the word "family" upon every recruit that steps foot on campus, and it's a factor that Drew is not only looking for, but believes Auburn has.
"He (Chizik) and his wife seem to be very Christian based," Drew said. "He was at Auburn as defensive coordinator when they went 13-0. Then he was at Texas as a defensive coordinator when they won a national championship. Now he's back at Auburn and they had a good first season, and now that he has his staff in place, I'm interested to see what they are really going to do.
"In college, the word family is stressed a lot, and I want to go somewhere that is really all about family because they will be my family away from home. I believe Auburn has that, I can see it. A lot of places they talk about family, you see the players walk through the halls and they don't speak to the coaches. At Auburn, every time you see the coach it was, 'hey, how are you doing'. You could see it."
As the start of his senior season draws closer, Drew knows that he will have to narrow his list of 30 offers down to a manageable number. He would like to narrow his list to five schools soon, and does have some current schools that stand out more than others right now.
If you are awaiting his top five though, don't wait too long as Drew doesn't plan to make his top five public.
"I have a few that I'm looking at," Drew said. "I'm looking to start letting people know soon, but I won't come out and say who has or hasn't made the final list. The schools will know though. I'm different, I don't like to be predictable. A lot of people come out and say things, and say who their three or four schools are, but I don't like anyone to know what my next move will be."
As for Drew and his already busy schedule, it doesn't seem to be slowing down any time soon. Thomasville County Central will get their season underway in August and then Drew will begin to take official visits as well.
Then in December, Drew is heading to Hawaii for the Aloha Prep Bowl and then on to the U.S. Army All-American game in January. All that leading up to what will be a busy month leading up to national signing day.
As a junior, Drew racked up 72 tackles and six sacks. Rivals ranks Drew as the no. two defensive end in the nation, the no. one player in the state of Georgia, and the no. 15 overall prospect in the nation.