Duke is out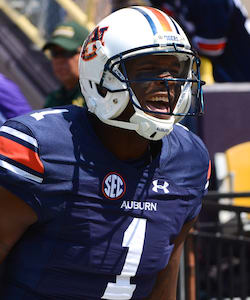 [rl]

AUBURN | Duke Williams already has caught his last pass in an Auburn uniform.
The enigmatic receiver was dismissed from the team Monday after an off-the-field incident at a local nightclub during the weekend. The senior already was on a zero-tolerance policy with coach Gus Malzahn after drawing a suspension late last season, which kept Williams out of the Outback Bowl, and a second suspension in early August following a preseason practice session.
This third strike ended Williams' Auburn tenure.
"When individuals fail to meet the expectations of our program, there has to be consequences," Malzahn told AuburnTigers.com. "I gave D'haquille the chance to prove himself. I am disappointed that it did not work out."
He quickly became quarterback Nick Marshall's favorite target during the 2014 season and finished with 45 receptions for 730 yards. He scored five touchdowns.
Williams' best asset is his size, he's listed at 6-foot-2 and 225 pounds, and his catch radius. Long arms and better-than-average flexibility allowed the Louisiana native to catch balls that most other receivers simply couldn't reach.
Many believed Williams would leave for the NFL at the conclusion of his junior season, particularly after a 121-yard performance in the Iron Bowl, but he elected to stay another season. That decision may not have been much of a decision at all; Williams was suspended for the Tigers' appearance in the Outback Bowl and doubts about his off-the-field behavior only strengthened after his bowl bye.
Williams' behavior became an issue again in early August, when the wideout was suspended for behavioral reasons after a preseason practice session. Assistant coach Dameyune Craig later said Williams was disciplined for exhibiting behavior that was "below the standard we have here at Auburn."
That suspension lasted six days.
Williams' senior season has been a disappointment by any measure. He has just 12 receptions for 146 yards, though quarterback troubles -- and a personnel change at the position -- have compromised the team's passing attack.