COLLIER: Dismal and dysfunctional on the Plains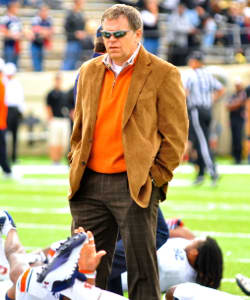 AUBURN -- There weren't any surprises in this year's rendition of the South's Oldest Rivalry; as far as that goes, there was barely any evidence of a rivalry, and almost none of an actual football game.
Georgia did whatever they wanted to do. Auburn didn't do much besides show up and get clobbered. Again.
At this point it's much easier to identify the few guys who are playing well than it is to laboriously go through all the places where Auburn continues to stink. Gabe Wright is out there making plays on defense; Dee Ford is battling. On offense, Tre Mason, Jay Prosch, Onterio McCalebb and Emory Blake all could play for a good football team. Jonathan Wallace got rattled late, but all in all didn't play badly for a true freshman getting absolutely no help from his coaches or his offensive line.
And that's about it.
Defensively, the rest of this team quit after the LSU game and has been in double-quit since the fourth quarter against Vanderbilt. There's been no hustle, no intensity, no real interest in playing actual football in longer than I care to remember. They didn't even put up a token fight in the last two SEC games and there's no reason to expect anything different going forward. The less said about the not-an-offense, the better.
It's not worth arguing any longer if Gene Chizik's tenure will end this year. No Auburn coach could -- or should -- survive going winless in the SEC, mostly by blowouts, young players or not, change in coordinators or not.
To put it bluntly, Chizik has been forgotten but not gone for over a month now. The last two epic SEC debacles only served to display just what a terrible job he's done during the past two years.
But Auburn will fail badly if head coach is the only position that gets a new occupant. Plenty has to change off the field before anything substantial is going to change on it.
Auburn is suffering from a failure of leadership at every level. President Jay Gogue continues to dither, offering only an anodyne press release and acting as if he'd rather just muddle through until his own retirement with as little actual effort as possible. Gogue's well-known dislike for firing subordinates and
unwillingness to make difficult decisions
is harming both the athletic department and the university as a whole.
Gogue and his predecessors failed to reform the athletic department when they had the opportunity. Too many people in power at Auburn still wish the department could be what it was in the 1970's: A sleepy office that prints tickets, books travel and provides cushy sinecures for old buddies and former teammates.
A prime example is Jay Jacobs, who never had any business being athletic director. Jacobs was chosen over the vastly more qualified Dan Radakovich (who was later hired by Georgia Tech and more recently Clemson) and Greg McGarity (now athletic director at Georgia) and Scott Etheridge, who had a business background that puts Jacobs' time in Auburn's ticket and fundraising operations to shame. There's a big difference between doing business in a competitive marketplace and just cashing priority "donation" checks.
In any sane organization, Jacobs would have finished a distant fourth out of that group. In Auburn's case, Jacobs parlayed personal relationships and fear of change within the department (and myriad would-be Jerry Joneses among Auburn's power brokers) into a job that he proceeded to run into the ground.
A perhaps even more perfect example is Jacobs' longtime co-worker and BFF Tim Jackson, who ran the AU ticket office for many years in which that office earned a reputation for incompetence and poor customer relations. By all accounts, the attitude of that office was a reflection of its leadership.
For reasons few can justify, Jacobs elevated Jackson from a position where he was already doing a poor job into one where he could do actual damage. Jackson, who deems himself Auburn's "general manager" for football, participates in interviews for coaching positions (notably including the one when Chizik was hired) and exerts authority over player discipline and other matters that are the proper purview of the head coach. Jackson is also widely believed to be responsible for the abrupt departures of both current Florida head coach Will Muschamp and David Marsh, the most successful college coach in the history of the state of Alabama.
For all the ire directed at Jacobs and Jackson, though, they're just the most public examples of the overall long-simmering dysfunction in the Auburn athletic department. Until and unless the university's leadership starts treating that department like what it is -- a $100 million business and the public face of the university for most of the country -- we'll see fiascoes like this continuing to happen in every sport.
By Gogue's own choice, decisions to make fundamental changes remain on his desk for the moment. However, if he continues to vacillate and/or chooses unwisely, he'd be well-advised to buckle up, and I'm not just talking about the board that has the power (and responsibility) to fire Gogue himself if he does not act in Auburn's best interests.
If the toxic atmosphere around Jordan-Hare Stadium last Saturday is any indication, President Gogue is one more bad move away from having an Auburn Tea Party marching up Samford Avenue to his mansion, bearing an ample supply of tar and feathers.