Coe enjoys visit to AU, will return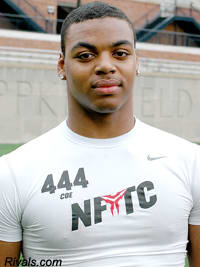 Another highly-recruited national prospect was in Auburn this past weekend for one of the Tigers' biggest recruiting weekends of the year.
Coe expected another typical recruiting visit, but said he quickly realized it was something unique.
"One thing that really stood out was how they interacted with the players," Coe said. "Every other school we just toured the facilities. We toured the facilities at Auburn, but we also had activities, and it was just a different routine. We got to mingle with the players and coaches, and we just got to be closer to them. That was one of the best things I liked about it.
Luper, Auburn's running backs coach, is recruiting Coe for the Tigers. Luper seems to be making quite an impression on the highly-regarded athlete. Being able to not only talk about football, but other things has Coe enjoying his relationship with Luper so far.
"Coach Luper, I talked to him for awhile, we just hit it off," said Coe. "We can talk about anything, from sports to life. I can see myself just going and talking to him about life, we can talk about football and all that stuff."
The other Auburn coach recruiting Coe is Malzahn, the Tigers' offensive coordinator. Malzahn seems to be leaving a similar impression on Coe, a relationship that can go beyond football.
"Coach Malzahn is just a good guy all the way around," Coe said. "He treats you good as a person and a player. None of them talk down to you at all."
"I met a lot of them, but it's hard to remember all their names," said Coe. "Me and Kiehl hit it off, then I talked to his dad for 10 or 15 minutes too. He's real cool."
Coe plays linebacker and running back in high school, but admits most schools are recruiting him to play running back, including Auburn.
"(Luper) told me they have a lot of plays for a guy like me," Coe said. "They are known for a spread offense, but I looked at their film. He showed me how they use two backs in the spread, and how the back really lines up in the I-formation. He was just showing me all the different plays and how they could get the ball in my hands."
While style of play is important for Coe, playing time may be equally important. He said he would rather not have to wait until his junior or senior year to see the playing field, and wants to make an impact quickly wherever he goes.
"The biggest thing is how I feel and how I see myself fitting in with the coaches", Coe said on what he's looking for in a school. "Other than that, I'm looking at if it's a running team. I kind of want to go to an I-formation team, but other than that I'm looking at depth. I'd rather go to a school with four running backs than six or seven."
While Coe says he's visited many schools so far this spring, he hasn't quite narrowed it down to a definite top group. He does, however, have some schools in mind for official visits next fall, one of which is Auburn.
"I don't have a favorite school right now," said Coe. "I've been to about 11 schools by now so I'm starting to narrow it down. Unofficial visits I'm done, but I already have an idea of my some official visits. I know for sure I'm going to Auburn, Iowa, and Arkansas. Then I'll have two others that I may want to go and check it out."
Coe plans to play in the Army All-American Game and hopefully make his decision by then. If he doesn't decide by then, he said he would likely wait until Signing Day. Until then, Coe said he will mainly focus on his ACT score and making sure his grades are in order.