Coach says Auburn getting a good one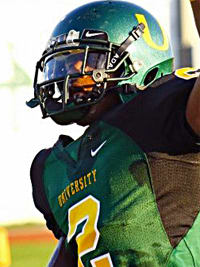 Auburn's newest commitment may be new to some people, but to coaches that have seen Devin Gaulden play, they know what kind of player Auburn is getting from the state of Florida.
One coach that sees Gaulden every day is University High School's defensive backs coach Chad Wilson. Wilson says Auburn is getting a true gem in Gaulden, and the Tiger fans won't be disappointed.
"As a cornerback, he's a pure cover corner guy," Wilson said. "He played basketball before this, and he has tremendous one-on-one skills, playing basketball has given him a lot of that. When coaches have come to our practice, they notice his competitiveness and his cover skills."
And coach Wilson would know.
Wilson played cornerback at the University of Miami from 1992-1994, and played with the likes of former Miami greats Michael Barrow, Ray Lewis, Warren Sapp, Jessie Armstead, and more.
Wilson knows what it takes to become a big time college cornerback starting 13 games for the Hurricanes and playing in the Sugar, Fiesta, and Orange bowls. Wilson was also All-Big East his senior season, and sees everything you need to succeed at the position in Gaulden.
"I played for the University of Miami, and I told him when we went down there for a camp, 'you can play here'," Wilson said. "I said you can play here and do anything else anyone else is doing. He has that kind of potential, it's just a matter of how high he wants to go. He's got a lot of natural god given gifts, he's very explosive, he's got the quickness, and he'll come up and hit you. He can be as good as he wants to be."
Wilson says every recruiting class has it's fair share of high profile prospects, but they also have players that are unknown when they sign, but develop into difference makers in college.
He sees Gaulden as that type of player, and knows from his experience at Miami, where they won championships recruiting players that not everyone had their eye on.
"A lot of great recruiting classes, there's always a sleeper in there somewhere," Wilson said. "I know that coming from Miami, where they have a history of getting players not a lot of people know about. Devin is that kind of person. The way things are today, there's a lot of people that go out and publicize these kids, and sometimes kids fall through the cracks. Devin doesn't have a lot of film, he doesn't have a lot of stats backing him up, but he's a tremendous player. The people making the decisions that know, and that have seen Devin play, know he has a tremendous amount of potential. He may not be well known now, but he will be in time."
Wilson also said there's nothing to worry about with Gaulden off the field, saying he will represent his high school, and Auburn, in the right light.
"Any kid coming out of this school will be represented," Wilson said. "If you are here, you have your act together on the field and in the classroom. You're ready to go be a responsible adult, and that's something we preach as a staff. Devin is certainly brought that to the table and continues to be a great player, Auburn is getting a great one."