Class of 2022 CB Andre Stewart commits to Auburn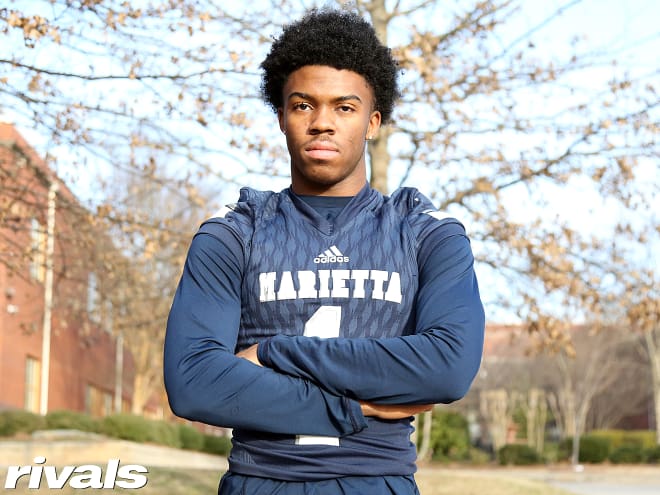 Auburn has landed the first commitment in its 2022 class, and it's a big one.
Marietta (Ga.) cornerback Andre Stewart announced his commitment to Auburn on Tuesday.
"I made the move," Stewart said. "I'm committed. It just feels like home. I love the family aspect at Auburn and what they provide. The coaches, they showed a lot of love towards me and that meant a lot. They diagnosed my game film and told me what they liked about me and how I could provide for Auburn."
Stewart chose Auburn over offers from Florida, LSU, Miami, Tennessee, Kentucky and Louisville, among others. A big reason for doing so was the coaching staff.
"I really like all of them: Coach (Marcus) Woodson, Coach 'Crime Dog' (Wesley McGriff), Coach 'Chop' (Levorn Harbin), Coach (Kevin Steele), all of them," Stewart said.
Stewart's father, Maolo Stewart, was equally impressed with the coaches during Saturday's visit, especially Steele.
"We love Auburn as a family, but of all the schools Andre went to, Coach Steele was the first to say, 'I watched Andre's film from A to B and if he was available now, he would play right now because of his skillset'," Maolo Stewart said. "That meant a lot. For him to take time and really diagnose his game and see where he could fit in. That was amazing to me. I thought that was awesome."
Andre Stewart's commitment comes three days after visiting Auburn's end-of-the-summer picnic. It also comes an hour after Class of 2021 quarterback Aaron McLaughlin committed to Auburn.
The Tigers have added three commitments from Saturday's picnic, including one each from the 2020, 2021 and now 2022 classes. Selma's Jeremiah Wright, a 2020 offensive tackle, committed to Auburn on Saturday.