{{ timeAgo('2022-06-13 22:54:18 -0500') }}
baseball
Edit
Burkhalter punches Auburn's ticket
AUBURN | Blake Burkhalter had given up a run or two in three consecutive outings. He hadn't gone more than 2.0 innings since April 2.
But Butch Thompson trusted the SEC saves leader to go 2.2 innings in the biggest game of the season — and it paid off with a dogpile at Goss Stadium.
Burkhalter retired all eight batters he faced, five with strikeouts, to earn his 15th save of the season and give Auburn a 4-3 win over Oregon State to win the Corvallis Super Regional and secure a spot in the 2022 College World Series.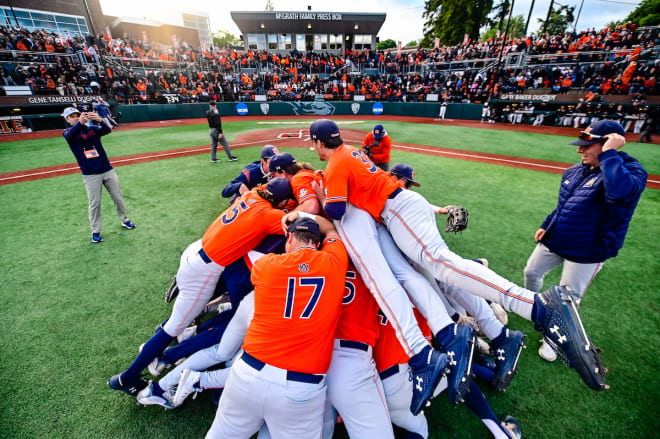 "He's the greatest coach in college baseball. We all believe that," said Burkhalter. "Every time I pitch he always says he has faith in me and that helps build my confidence.
"He had faith in me to get out there and pitch and finish the ballgame so I couldn't let him down."
Burkhalter came on in the seventh after the Beavers had seized momentum with a two-run home run off Carson Skipper followed by a one-out walk and a single.
He struck the first two batters he faced in the seventh to end the threat, and needed just 12 pitches to retire the side in the eighth.
Facing the top of the order in the ninth, Burkhalter struck out Justin Boyd, who hit the home run in the seventh, got Wade Meckler on a fly out to left field with an assist on a sliding catch by Bryson Ware, and ended it with a strikeout of Garret Forrester.
"We were in the moment and I thought that was the game," said Thompson, AU's seventh-year head coach. "I don't think he's a closer. I don't think he's a set-up guy. I think he's a competitive-moment pitcher — our competitive-moment pitcher."
Catcher Nate LaRue was the first to reach Burkhalter and then the rest of the Tigers piled on as they celebrated advancing to the College World Series for the sixth time in school history and the second time in three postseasons under Thompson.
"It was amazing for the first three seconds until I was on the bottom and somebody's knee was on my face," joked Burkhalter. "But words can't describe how exciting that was out there in the moment, living it up. Just a wonderful time."
Auburn scored its four runs on just three hits. Sonny DiChiara got AU on the board with a 2-run home run in the third, his 22nd of the year.
The Tigers added two more in the sixth on a ground ball by Brooks Carlson to score DiChiara from third and a safety squeeze by Brody Moore.
DiChiara was 2 of 2 with two runs scored and two RBI.
AU starter Mason Barnett allowed just one run on five hits in 4.1 innings. He struck out five and issued three walks on 81 pitches. Skipper (6-3) earned the win holding OSU to two runs on three hits in 2.0 innings.
Auburn, which improves to 42-20 on the season, will play Ole Miss 6 p.m. CT Saturday in Omaha. Stanford and Arkansas are also in AU's bracket. A total of four SEC teams advanced to the CWS with Texas A&M facing Oklahoma, Texas and Notre Dame.