Ballers Weekend recap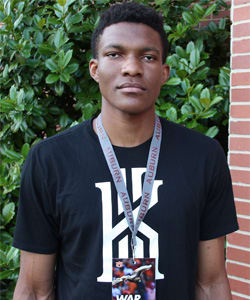 [rl]

Links to stories on the recruits, as well as videos from the camp, are below the story.
AUBURN, Ala. | It was a big recruiting weekend in Auburn, and it didn't have anything to do with Gus Malzahn.
This was all Bruce Pearl.
Auburn's second-year basketball coach attracted a group of elite talent, a group that included a pair of top 24 recruits, to Auburn over the weekend.
It was a group like Auburn basketball had never seen.
Eight of the top 100 recruits in the 2017 class were in Auburn on Saturday, as were four of the best 2018 players and two of the Tigers' 2016 commits.
"After a long summer, it's pretty impressive that Auburn was able to bring that type of talent onto campus," Rivals.com national basketball recruiting analyst Eric Bossi said.
In all, 15 recruits visited on Saturday. Eight of the nine 2017 visitors are ranked in the top 100. All four of the 2018 visitors are expected to be top 100 guys next year.
Spain Park five-star
Austin Wiley
, the No. 3 power forward, was there. He visited Saturday and Sunday, and brought with him his parents, former Auburn players Aubrey Wiley and Vickie Orr Wiley.
Joining Wiley, who is ranked No. 15 overall in 2017, in Auburn on Saturday were the No. 24 overall player, 7-foot center
Ikey Obiagu
, the No. 49 player, Pelham's
Alex Reese
, and the No. 52 player, four-star guard
Jamal Johnson
. Johnson is Wiley's teammate at Spain Park.
"Obviously Wiley is a recruit of extreme importance for Bruce Pearl and his staff," Bossi said. "But they are making sure that they do everything that they can to touch on the rest of the talent and make them feel important."
That includes the younger guys.
Eufaula point guard
Tony Johnson
and Cordova power forward
Isaac Chatman
, two of the top in-state players in the 2018 class, made up half the sophomore group in Auburn on Saturday. The other two sophomore visitors were Mountverde (Fla.) power forward
E.J. Montgomery
and Westlake (Atlanta, Ga.) point guard
Jamie Lewis
, two out-of-state targets for Auburn in 2018.
Auburn's visitor list for Saturday also included two of its 2016 commitments, point guard
Jared Harper
of Pebblebrook (Mableton, Ga.) and three-star power forward
Anfernee McLemore
of Worth County, Ga.
Auburn on Sunday held its Elite Camp, which featured around 55 more recruits. The list was headlined by Norcross (Ga.) four-star power forward
Rayshaun Hammonds
, who is ranked the No. 70 player overall.
Of the approximately 70 visitors this weekend, a large majority are from Alabama, Georgia or Florida.
"The home region from which Pearl and his staff would love to be able to recruit from is really strong right now, but programs in the SEC have really stepped up their recruiting acumen of late," Bossi said. "Any chance you can get to have players on campus so that you can spend time with them and show them what you have to offer is extremely important."
SATURDAY VISITORS
2016 CLASS








2017 CLASS
(15)







(24)






(49)






(52)






(82)





(85)





(98)





(99)





(NR)




2018 CLASS
* Stayed for Sunday's Elite Camp
NOTABLE SUNDAY VISITORS
(70)

















***** ***** *****