Auburns Wefense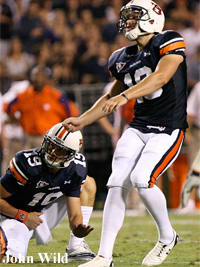 Following the 2002 football season, then-Arizona running backs coach
Jay Boulware
went to Wildcat head coach John Mackovic and asked a question, a question that started a brief conversation between the two, and ultimately led to a new coaching path for Boulware.
Arizona's special teams coordinator had been fired. The Wildcats needed someone to take his place, or take his role, and Boulware decided he wanted to be the one.
There was one problem, though. He was nervous to ask for the job. The 30-year-old had just completed his second year at Arizona. He had never coached special teams.
"I wanted to go in there and ask for it, just say, 'Give me a shot at this,'" Boulware recalled. "But I was hesitant. And then I said to myself, 'You know what … I want to do this and I'm going to do this.' So I walked in there and asked him. I got up and walked in there and said, 'Coach, who do you have in mind for the position?'"
Mackovic's response was a little surprising to Boulware.
"He looked at me and smiled. He knew where I was going with it," said Boulware. "He said, 'Well, I have a guy a little closer to home in mind.' I said, 'You already have somebody in mind?' He said, 'Yeah.'
"I said, 'If you don't mind me asking, who is it?' He said, 'Well, he's standing right here. I'm going to give it to you.'"
Boulware became the Wildcats' special teams coordinator/running backs coach in 2003. The young Boulware had something new to coach, to coordinate. He had things to learn.
To him, it was a challenge.
"I worked hard at it," he said. "That's how I was raised. I absorbed everything I could. I took pride in it."
But he wouldn't do it at Arizona for long. Mackovic was fired midway through the 2003 season leaving Boulware in need of a job.
It wouldn't take Boulware long to find one. He was hired at Stanford to coach running backs the next year, but the Cardinal special teams coordinator position had already been filled.
Tom Quinn, who is now in his fifth year as special teams coordinator for the NFL's New York Giants, held the position. Boulware did the only thing he knew to do. He used the year to learn from one of the best.
"I got near him and starting learning," said Boulware. "Everything I did the year before at Arizona, I wanted to see how he did it. I started comparing. I started seeing the things he did, and I took some from him."
Boulware took them to Utah the following year, where he was named tight ends coach and co-special teams coordinator. It was then that Boulware knew he needed a niche'. He wanted a specialty. He wanted something that set him apart from other assistant coaches in college football.
"You have to be good at something," said Boulware. "There are guys that are great at recruiting. There are guys that are great defensive coordinators, great offensive coordinators. You have to be known for something and I needed to find my niche' as a coach."
For Boulware, it would be special teams. He co-coordinated special teams at Utah for two seasons before joining
Gene Chizik
at Iowa State in 2007. Chizik hired Boulware to coach running backs and coordinate special teams at Iowa State. Chizik, following the '08 season, then took the head coaching job at Auburn. He brought Boulware with him and hired Boulware to coach tight ends and coordinate special teams for the Tigers.
In his first year at Auburn, the 2009 season, Boulware had very few scholarship players to choose from for his special teams units.
"It was tough," Boulware said. "We were really thin. We had walk-ons. And not only were they walk-ons, they were freshmen walk-ons. I remember against Arkansas that year, we had started to lose players and got really, really thin. All of the sudden I looked out there and we had seven or eight guys on our kickoff team that were walk-ons.
"I didn't realize it had gotten to that point. Those guys were just players for me and the best we had so I plugged them in."
Following the '09 season, Boulware invited Rich Bassachio, currently the special teams coordinator of the San Diego Chargers, to Auburn. Meeting with NFL special teams coordinators during the offseason wasn't anything new to Boulware. He had met with numerous ones in the past.
But Bassachio was different.
"I wanted him to tell me what I could do better," said Boulware. "And it was the best visit I have ever had, the most productive visit. There were things that we were doing and he would ask, 'Why are you doing that?' He challenged me on every aspect on everything we were coaching.
"But the visit really confirmed that a lot of what we were teaching was the right stuff. There were some things that I felt like he did that we could do better, but we had a lot of the same thoughts, particularly in the kickoff coverage area."
In 2010, Boulware's special teams were a big part of Auburn's 14-0 record, its SEC title and BCS national championship. The field goal team executed a 19-yard field goal as time expired against Oregon to win Auburn's first national title in 53 years.
Kicker Wes Byrum broke his own school record for points in a season (123). The Tigers' punt coverage team was No. 1 in the SEC and No. 9 in the nation. The kickoff coverage team was No. 2 in the SEC and No. 16 nationally. Auburn's kickoff return team led the SEC with 1,482 yards.
Boulware credits a lot of that to recruiting. Having scholarship freshmen on coverage units in 2010 was different than the freshman walk-ons in 2009.
He also credits the success to a concept he learned from Bassachio during that pre-2010 visit.
"It's not special teams," said Boulware. "It's not our special teams units. It's our 'wefense'. (Bassachio) said that when he came here and I really thought it fit us.
"We have offensive players on coverage units, defensive players on return teams. It is a mixture of our team. It's not just offense. It's not just defense. It's our team. It's our 'wefense'."
The concept has continued to prove successful in 2011. Auburn's "wefense" converted an onsides kick in the season's first game that helped the Tigers avoid an upset to Utah State. Freshman
Tre Mason
is second in the SEC and 16th nationally in kickoff returns. New kicker
Cody Parkey
is second in the SEC in field goal percentage, connecting on 7-of-8 attempts, and leads the nation in number of touchbacks (15) on kickoffs. Punter
Steven Clark
is fourth in the SEC and 20th nationally in punting, averaging nearly 44 yards per kick. Auburn's kickoff coverage team is allowing less than 20 yards per return.
"'Wefense', it's not something we rally behind. It's our concept," said Boulware. "It's the concept of putting both sides of the ball together and forming a single unit and using that unit as a strength. It's our team, our whole team. It's our 'wefense'.
"As a coach, you're not coaching just the offensive guys. You're not just coaching defensive guys. You're coaching the team. That's what it is all about, and that's one of the reasons why I love special teams so much. "
And for Boulware, it all started with a simple question nearly 10 years ago in Arizona.