Auburn visit exceeds expectations for Cal grad-transfer OT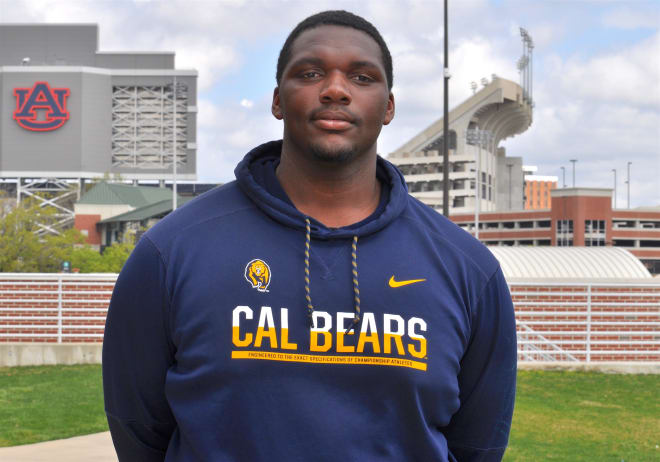 AUBURN | Cal graduate-transfer offensive tackle Aaron Cochran's weekend visit to Auburn went better than expected, and he's now a few weeks away from making his decision.
"It was fantastic, excellent," Cochran said. "I'm not sure what I was expecting when I came, but I can tell you it exceeded the expectations I had. It's been great. Everyone is great. The atmosphere is fantastic and the weather has been good, too."
Cochran arrived in Auburn on Friday and stayed until Sunday. He toured the campus and facilities and watched the Tigers scrimmage Saturday inside Jordan-Hare Stadium. It was important for Cochran to see Auburn's offensive line in action.
The Tigers informed him of their need for him, but Cochran wanted to see if for himself.

"A lot of coaches are inclined to give you lip service just to get you there, but it was nice to go out there and see the situation with my own eyes and assess it myself," Cochran said. "I think maybe left tackle is what they're looking at, so they can move other guys around they think would be better at other positions. It would give them more flexibility across the line and allow time for some people to develop."
Cochran, who stands 6-foot-8 and weighs 345 pounds, met extensively with offensive line coach Herb Hand during his visit. He was impressed with the Tigers' second-year coach.
"Coach Hand is fantastic, really passionate about his job and loves his work and his players," Cochran said. "You can see it in his actions and how his players and staff talk about him and how he carries himself. He's really open and honest, and you want that as a player."
Cochran left Auburn without naming a leader among his final three: Auburn, Oklahoma State and Texas Tech. He visited Oklahoma State March 10-12 and will visit Texas Tech April 7-9.
"Finding a place that I can call home, and of course, playing," Cochran said of what he's looking for in a college. "If I come in and don't play, it's a waste. I already have a degree, so right now a lot of my focus is on preparation for the next level and dominating on this level."
Cochran has one year of eligibility remaining. He started 10 of 11 games last year at Cal, but announced in February his intentions to transfer.
"It was time to move on," Cochran said. "My experience at Cal has been different. Yes, my coaches left and I lost a good offensive line coach and offensive coordinator, but the new staff has been incredible. They are incredible people.
"If it was another situation at another university with the same coaches, it would have been a perfect storm for me, but I was done being at the University of California."
Cochran, who was born in Birmingham and lived in the Midfield and Marion areas before moving to Atwater, Calif., plans to announce his college decision following his visit to Texas Tech in April.