Auburn signs 'historic' class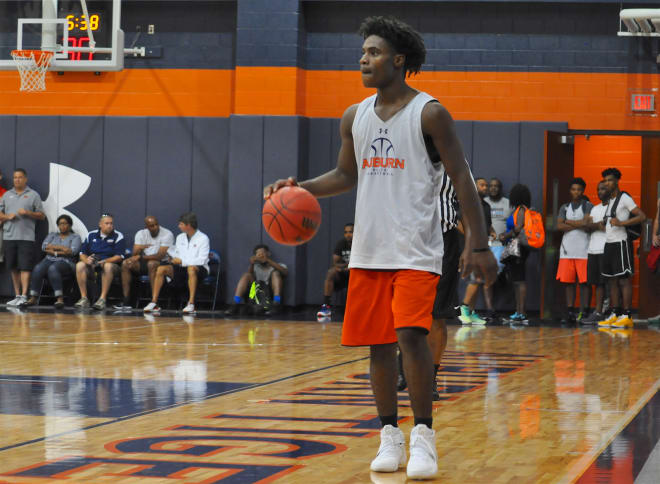 AUBURN, Ala. – Auburn has signed consensus five-star center Austin Wiley, four-star point guard Davion Mitchell and four-star forward Chuma Okeke, coach Bruce Pearl announced Wednesday.
The trio is one of the top classes in the country, according to Rivals.com.
"This class is historic," said Pearl.
Wiley, who is ranked the No. 16 player in the class by Rivals, played on Team USA's gold medal winner at the U17 world championships in Spain this summer. He averaged 22 points and 12 rebounds as a junior last season for Spain Park, which reached the state Class 7A finals. He is the son of two former Auburn players, All-American Vickie Orr and Aubrey Wiley.
"It started with Austin Wiley - about a year and a half ago - committing to us prior to his junior year," Pearl said. "You might say that was a no-brainer. His mom, Vickie, was an All-American. His dad, Aubrey, led the SEC in rebounding his senior year. Both of them are part of the Auburn Family, but Austin could've gone anywhere in the country. He had offers from everywhere, but he wanted to be an Auburn Man."
It marks the second consecutive season a five-star recruit has signed with Auburn. Freshman Mustapha Heron was the first in Auburn history when he signed in 2016.
"(Wiley) wanted to start to lead even before he got here," Pearl said. "He knew that his verbal commitment might attract others. All he's done between then and now is work so hard to build his body to represent our country in international basketball and wear that USA jersey. Now, he's going to come here and add to the history and legacy of his family."
Mitchell, who is ranked No. 41 by Rivals, led Liberty County to its first Georgia Class 4A state championship last season, defeating defending state champion Jonesboro, 58-52. He averaged 24.2 points, 7.1 assists, 3.6 rebounds and 2.9 steals per game as a junior, earning Savannah Morning News Boys Basketball Player of the Year honors. Mitchell shot 41 percent (103-of-250) from 3-point range.
"Davion Mitchell is one of the most physical defenders anywhere in high school basketball," said Pearl. "There is not a better on-the-ball defender than Davion Mitchell. If I put you on him, you're not going to score that night, but he can also score. He can also make plays. He's a winner. He brought a state championship to his hometown. He's a terrific young man. We're going to have great point guard play because of Jared Harper and Davion Mitchell running that position."
Okeke, who is ranked No. 55 by Rivals, lead Westlake to the Georgia Class 6A state championship for the first time since 2002 with a 68-58 overtime win over Pebblebrook. Westlake trailed by 10 points at the half. He averaged 22.7 points and 7.5 rebounds as a sophomore in 2014-15.
"Chuma had offers from Kansas and everybody in the SEC," said Pearl. "Chuma Okeke is a rare talent. He wins without necessarily always having to have the basketball in his hands. He loves the game. He loves to train. He loves to play. He's a nightmare matchup for people because he can shoot the ball from the perimeter. He can put it on the floor. He can score for himself. He reminds you of Danjel Purifoy, but he has little bit more size. He's creative like Danjel as well. He has a great future in professional basketball. We got to know his family so well."
Pearl is very excited about the future of Auburn basketball.
"You want success for these young men because of getting to know all three of these phenomenal families," said Pearl. "I'm just grateful to those guys that they saw what we saw. They believed in what we believed. Together, we have a chance to make history at Auburn. We can make Auburn basketball relevant once again. We can make our lettermen and our former players proud to be able to see what we're doing right now. This is a very exciting day for Auburn basketball."