Auburn releases 2006-7 basketball schedule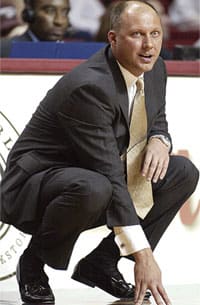 Auburn will play host to eight NCAA Tournament teams from a year ago including defending national champion Florida, Final Four LSU, Pittsburgh and Texas A&M to highlight its 2006-07 basketball schedule, head coach
Jeff Lebo
announced Wednesday.
The Tigers play 16 games against teams that reached postseason play, including 13 against NCAA Tournament participants. Auburn will play perennial power Oklahoma State in the semifinals of the South Padre Island (Texas) Invitational Nov. 24 followed by either NCAA Tournament participant Wisconsin or Missouri State, which has reached postseason play two straight seasons.
"Our schedule again is tough,' said Lebo, whose Tigers played the nation's 20th-ranked schedule last year. "We have Pitt coming in to play and Texas A&M. Texas A&M and Pitt were both in the NCAA Tournament, and Texas A&M has all of their guys back. Oklahoma State and Wisconsin are high level teams, and we also play on the road at Southern Miss.
"Last year's schedule was a top 20 rated schedule and was too hard for a team starting four freshmen. Hopefully, we will be challenged enough, but not too much in the non-conference season getting ready for SEC play. The SEC is going to be nasty again."
The Tigers play a pair of exhibition games against two Montgomery teams in Auburn with Faulkner Nov. 3, the night before the Arkansas State football game, and AUM Nov. 7. Auburn opens the season with four straight home games, including the season opener against Troy Nov. 10, the night before the Georgia football game.
Auburn plays host to the first two rounds of the South Padre Island Invitational facing East Tennessee State Nov. 19 and Miles College Nov. 21. The Tigers travel to play Oklahoma State in the South Padre Island (Texas) Convention Centre Nov. 24 and either Wisconsin or Missouri State the following day in the championship or consolation game.
The Tigers will then have an eight-game homestand highlighted by a trio of NCAA Tournament teams in Pittsburgh Dec. 3, South Alabama Dec. 6 and Texas A&M Dec. 22. A game at Southern Miss Jan. 2 closes out non-conference play.
Auburn opens SEC action at home vs. Vanderbilt Jan. 6 before a brutal two-game road trip at Kentucky Jan. 10 and at LSU Jan. 13. The Tigers return home to face another NCAA Tournament team in Tennessee Jan. 17 and play at Mississippi State Jan. 20 before two-straight home games against Alabama on ESPN's Super Tuesday Jan. 23 and defending national champion Florida Jan. 27.
The Tigers alternate between a road game and home game the rest of the season as they are at South Carolina Jan. 31, vs. Ole Miss Feb. 3, at Arkansas Feb. 7, vs. Mississippi State Feb. 10, at Georgia Feb. 17, vs. Arkansas Feb. 21 and at Alabama Feb. 24. Without a senior on the roster, Auburn plays its final home game of the season Feb. 28 against LSU, a 2006 Final Four team, before playing at Ole Miss Mar. 3 on the Rebels' Senior Day.
The SEC Tournament returns to Atlanta's Georgia Dome Mar. 8-11. Auburn has 11 weekend home games.
Tigers Unlimited, the fund-raising organization for the Auburn University Athletics Department, is currently accepting basketball ticket priority contributions for the upcoming season. A contribution to Tigers Unlimited will secure the best seating available at Beard-Eaves-Memorial Coliseum and allow you to enjoy all of the exciting home action.
Season tickets will go on sale October 2 for the 20-game home portion of the schedule for $205. Single-game adult tickets are $10 for non-conference games and $15 for SEC games except for the Alabama and Florida games, which are $20.
Two mini-SEC ticket packages for $50 each will be available Dec. 4 with the Orange pack consisting of the Florida, Tennessee, Arkansas and Mississippi State games and the Blue pack consisting of the Alabama, LSU, Vanderbilt and Ole Miss games. Non-conference single-game tickets will go on sale Oct. 16 while both exhibition games are free.
Holiday Game student section seats for NON-STUDENTS are $5 each for the Texas A&M, East Tennessee State, Tennessee State, Charleston Southern, Wofford and Miles College games. The Family Fun Zone for upper sections 17-26 are $5 each and are available for all SEC home games except for the Florida and Alabama games. Fun Zone tickets consisting of 311 seats are sold on game day only at the box office. Group tickets of 20 or more tickets are available for $5 each for all games except for Alabama and Florida with a required advance purchase.
For more information, please call the Tigers Unlimited or Athletic Department ticket office at 1-800-AUB-1957 or visit www.auburntigers.com.
FOR ADDITIONAL INFORMATION, Contact: Chuck Gallina (334) 844-9800
August 30, 2006
2006-07 AUBURN BASKETBALL SCHEDULE (all times Central)
Nov. 3 Faulkner (exh.), 7 pm
Nov. 7 AUM (exh.) (DH), 8 pm
Nov. 10 Troy, 7 pm
Nov. 17 Winston-Salem State (DH), 8 pm
Nov. 19 (1) East Tennessee State, 2 pm
Nov. 21 (1) Miles College, 7 pm
Nov. 24 (2) Oklahoma State (CSTV), 3 pm
Nov. 25 (2) Wisconsin/Missouri State (CSTV), 11:30 am/2 pm
Nov. 28 Nicholls State, 7 pm
Nov. 30 Louisiana-Monroe, 7 pm
Dec. 3 Pittsburgh, 2 pm
Dec. 6 South Alabama (DH), 8 pm
Dec. 16 Wofford, 1 pm
Dec. 19 Tennessee State, 7 pm
Dec. 22 Texas A&M, 7 pm
Dec. 30 Charleston Southern, 1 pm
Jan. 2 at Southern Miss, 5:30 pm
Jan. 6 Vanderbilt (FSN), 5:30 pm
Jan. 10 at Kentucky (LFS), 7 pm
Jan. 13 at LSU (LFS), 2 pm
Jan. 17 Tennessee (LFS), 7 pm
Jan. 20 at Mississippi State, 2 pm
Jan. 23 Alabama (ESPN), 8 pm
Jan. 27 Florida (FSN), 4 pm
Jan. 31 at South Carolina, 6:30 pm
Feb. 3 Ole Miss, 1 pm
Feb. 7 at Arkansas (LFS), 7 pm
Feb. 10 Mississippi State, 1 pm
Feb. 17 at Georgia, 3 pm
Feb. 21 Arkansas, 7 pm
Feb. 24 at Alabama (FSN), 4 pm
Feb. 28 LSU, 7 pm
Mar. 3 at Ole Miss, TBA
Mar. 8-11 (3) SEC Tournament (LFS/CBS)
(1) South Padre Island Invitational (Auburn, AL)
(2) South Padre Island Invitational (South Padre Island, TX)
(3) Atlanta, GA (Georgia Dome)
* All Times Central
(LFS) Lincoln Financial Sports TV (formerly JP Sports)
(DH) Doubleheader with the Auburn women