{{ timeAgo('2023-03-18 09:05:07 -0500') }}
football
Edit
Auburn QB commit spends day recruiting
From the moment Walker White committed, he was always recruiting.
Nothing changed Friday, as the Auburn quarterback commit was on campus for a spring practice. He was there to do more than just hang around the facilities and watch practice, though. He was there to work on building up a star-stacked 2024 class for the Tigers.
"I kinda came in today with the mindset of 'I don't want to be here for me," White said. "I don't want attention to go to me. I want to put it on the other guys. I want to try to talk to some other guys that we're looking at to get with us and around me."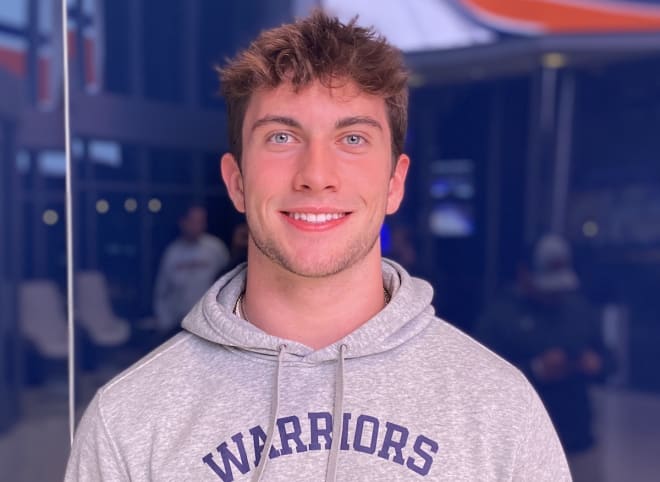 It starts up front, as White spent most of the day with offensive line prospects like Malachi Toliver, Jameson Riggs and Daniel Calhoun. He also spent time getting to know receivers Caleb Odom and Chance Robinson, as well as defensive back Christian Peterson.
"As a commit, I don't want to just be doing nothing as a commit," White said. "I wanted to do work and I wanted to do my job. So I came in and just wanted to recruit some other guys, get some other guys along with me and I think everyone loved it, it was fun."
Those are just a handful of some of the guys that White is in pursuit of recruiting to Auburn. His list is extensive and he's been in contact with several high-end prospects that the Tigers have made a high priority.
Still, even with a busy day recruiting, White did get a chance to observe practice.
"It was my first practice to watch and it was just fun to see everything live," White said. "The football and terminology and all the plays we've gone over with Coach Montgomery and Coach Freeze, it came to life and it was just really cool to see."
White is rated as the top player in Arkansas and the No. 3 dual-threat quarterback in the nation.