Auburn makes 'big move' for RB target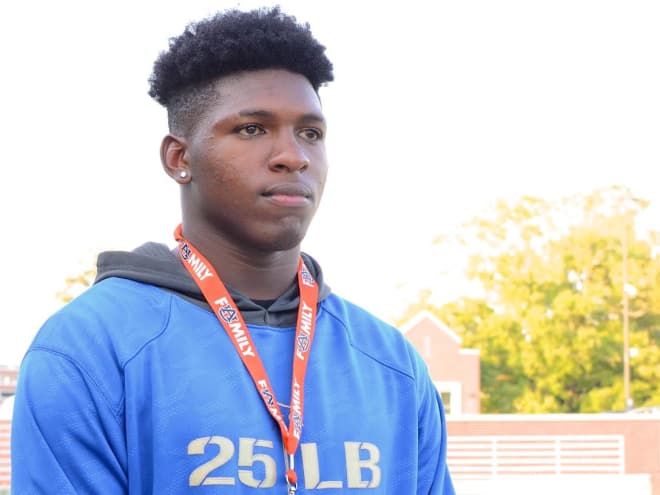 AUBURN | Tye Edwards visited Auburn for Big Cat on Saturday and will return in the fall for an official visit.
No doubt about it.
"Auburn has made a big move for me," Edwards said. "I like it at Auburn. Auburn has a nice campus. It's beautiful. I'll definitely be back."
Edwards, who is from Menendez in St. Augustine, Fla., was one of 31 recruits at Big Cat. It was Edwards' first visit to Auburn.
"It was fun," Edwards said. "The activities we did weren't about football. No other team has done that and I liked it."
Edwards spent a lot of time during the visit with running backs coach Tim Horton.

"I like Coach Horton," Edwards said. "He's a real cool dude, a nice dude. I like him a lot."
There's a reason Edwards was with Horton. Edwards could play running back or linebacker in college, but Auburn likes him more on offense.
"Auburn offered as an athlete, but they want me mostly at running back," Edwards said. "They are trying to get me because they don't have any big backs anymore and want me to step up to the plate."
That's fine with Edwards.
"I don't like linebacker, to be honest," he said.
Edwards could return to Auburn for an official visit the weekend of the Tennessee game (Oct. 12-14). Menendez has a bye that week. He also plans to take official visits to Oregon Texas A&M.
"I like Auburn," he said. "Auburn is in the top three."
Edwards' teammate at Menendez, three-star safety Kenny Logan, also visited Auburn on Saturday. Like Edwards, it was Logan's first visit to the Plains.

"It was a great atmosphere," Logan said. "I got to meet with the coaches, tour the campus, see a lot of different things that I really liked about the school."
Logan also met with Auburn safeties coach Greg Brown and area recruiter Kodi Burns.
"I spent a lot of time with my DB coach (Brown) and Coach Burns," Logan said. "Coach Brown is a cool guy, real nice. He's all about business and told me I would have a chance to play here, that I'm a top priority and that they would really like to have me on campus."
Auburn has offered Logan and is among his favorites.
"Ole Miss, Auburn, UCF, Alabama and Louisville," Logan said of his top schools. "I'll be back (to Auburn) sometime in the season for an official."