Auburn DB signee sees opportunity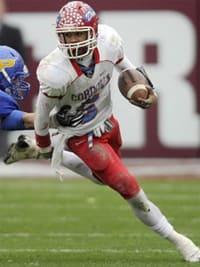 Cordova (Ala.) athlete
Ryan Smith
waited patiently for the offer he wanted.
That offer came on Signing Day.
The 6-foot-2, 208-pound White committed to Kentucky in October, but his plans changed the first Wednesday in February when he received his Letter of Intent from Auburn.
"I talked to Coach (Phillip) Lolley a couple times (before Signing Day), but the offer wasn't there," Smith said. "He told me if he called me back it was for a reason.
"He called me back the next day."
Smith said after he received the offer, switching from Kentucky to Auburn was easy.
"I'm an Auburn fan, grew up an Auburn fan, so (the offer is) all it took," he said.
Playing time was also a big factor for Smith. In high school he was a multi-position star, but at Auburn he will play safety.
"They told me they didn't have safety depth," said Smith. "They wanted a safety that was going to come in and help that rotation."
Smith is already preparing to play on the SEC level. He thinks he has an opportunity to play early at Auburn.
"I think if I go in there showing that I'm ready, then I do have a good chance," said Smith. "A lot of that is on my shoulders."
Cordova head coach Pete Bush said Smith is a star wherever you put him on the field, but is well-suited for the safety position.
"He's smart and he reacts real quickly. I think he'll do great at safety," said Bush. "He's a hard worker.
"He is just one of those kids you like being around."
Smith said his family is in full support of him attending Auburn and being a Tiger. They are really proud of his accomplishments.
"Everybody is excited to go to the games and experience something they've never experienced before," Smith said. "Me being the first one to go play ball somewhere like that and my family being Auburn fans, it's just big to them.
"I can't wait to get down there."
Smith plans to report to Auburn June 7.