Auburn blows 23-point road lead
It was a disastrous second half for Auburn.
The Tigers blew a 23-point lead and lost 90-84 at Ole Miss for the Rebels 10th-straight win in the series. Auburn committed 11 second half turnovers and Ole Miss made 62.5 percent of its shots and scored 63 points after the break.
"Most disappointing game of the year," said Auburn coach Bruce Pearl. "Our second half defensive problems continue. We didn't guard Ole Miss away from our bench, we turned the ball over way too much, didn't execute, made mistakes down there and didn't get back in transition."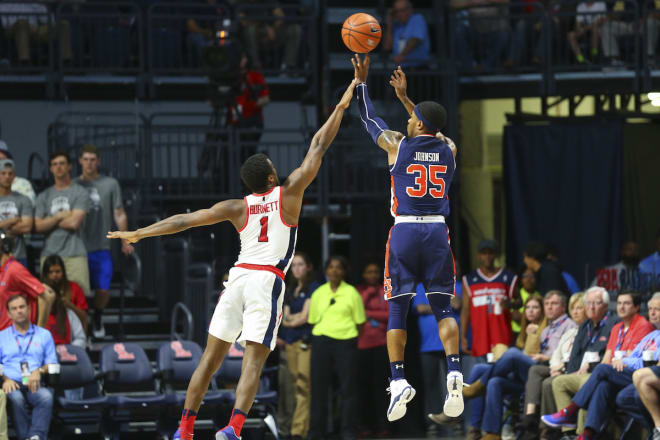 Auburn led by 20 at halftime and was up by 23 with 18:13 left before the Rebels went on an 11-0 run, followed by a 12-2 run a short time later and then another 11-0 run to take a 76-71 lead with 3:00 left.
The Rebels made their final 12 free throws to seal the win.
Ole Miss out-rebounded Auburn 39-38 but had a 23-15 edge in the second half. After shooting 8-14 from 3-point range in the first half, Auburn made 5-of-16 in the second. The Tigers finished with 20 turnovers.
Ronnie Johnson led Auburn with 18 points and eight assists. Mustapha Heron had 16 points and six rebounds while Danjel Purifoy added 12 points.
"Ronnie played well but we didn't execute. We didn't guard," Pearl said.
Austin Wiley finished with eight points, five rebounds and four blocked shots.
Terence Davis led Ole Miss with 26 points, all coming in the second half.
Auburn falls to 16-9 overall and 5-7 in the SEC while the Rebels improve to 15-10 and 6-6.
Florida visits Auburn Arena Tuesday night. Tip-off on the SEC Network is scheduled for 6 p.m. CT.
"I've got to try to get my locker room ready for Florida, but we've got to get accountable for this one right here," Pearl said ."This is the most disappointing loss of my career here at Auburn. Sixty-three points in the second half."