A look at the defensive signees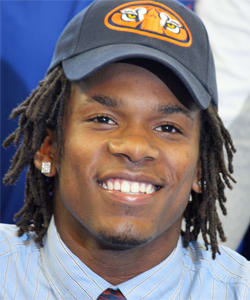 The Tigers wrapped up signing day after receiving Letters of Intent from 12 defensive players and another from a cornerback already enrolled in classes.
Overall, he's confident in the class that he and his staff have assembled.
"Great day for Auburn football today," Chizik said. "Really feel very, very good about the recruiting class that we just assembled. Starting out, the bottom line is you always look for what your needs are obviously. And we're looking for the right fit, the right guy and we don't care about the stars and what they're ranked and what they're rated. We're just looking for the right fit at Auburn. And that's what we feel the best about today. As we close out this day and move forward to the next year, we feel like we scratched all the right itches."
Defensive linemen
Five defensive linemen inked with the Tigers on Wednesday and Chizik believes each of them has plenty of room to develop.
"As we looked at these guys, we just think they all have huge upsides with their strength, physically and just with all that being said, they all have a chance to come in and play," Chizik said. "There's no question about that."
Chizik says: "Gabe Wright's a guy that we have targeted since we got here. He was probably one of the first priorities that we had when he was a young player. We knew about him, he'd come over to our camps, he'd come over and visited. That was a huge part of our puzzle defensively.
"We feel like he was the best defensive tackle in the country and he was a major target for us. He was a guy that was very highly sought after and rightly so. We feel like we developed a great relationship with him. Things can get confusing down at the end, but I feel like in his heart of hearts he was Auburn through and through.
"I feel like he's going to come in here and be one of those guys that has an opportunity to have an impact immediately and we told him that. And we just want him to come in and be Gabe Wright and continue to improve and be a better football player every year. He's got a chance, in my opinion, to be a very good player in this league. That was a huge 'get' for us and we're excited to have him and his family on board."
Chizik says: "Great, great defensive lineman. Really unique position that he was in in high school, played him at middle linebacker some. Kind of an under-the-radar guy a little bit, but then as his senior year went on he played a little bit hurt. But we really think he's going to be a big, physical presence. He's got a quick first step. He could grow into an inside defensive lineman."
Chizik says: "Just another great kid from the state of Alabama that we signed. Very athletic, believe it or not used to be a quarterback and grew himself into a 270-pound defensive lineman that's got another quick first step."
Chizik says: "This is a 307-pound young man and when you watch him run around out there, athletically when you watch him on film, that would almost shock you."
Chizik says: "Great athlete when you watch him practice basketball. Another guy kind of under the radar. We like that. We like going out and evaluating guys and we say, 'You know what? This guy fits what we want to do.' And he's another young man that we think is going to explode and his upside is huge."
Linebackers
Two linebackers signed with Auburn and a third has the opportunity to play on either side of the ball. The Tigers lost two starters when the 2010 season wrapped up, so certain players could see early playing time in 2011.
Chizik says: "He is really a unique individual out of North Carolina. He's played wide receiver and he's played linebacker and he's very good at both. We're going to kind of tinker with that a little bit when he gets here and find out ultimately what his final destination is going to be.
"We just know that he's a great player and that's one of the guys that we'll kind of figure it out once he gets here, but we knew we had to have him here at Auburn."
Landrum was listed as the No. 28 outside linebacker nationally and No. 19 player in Alabama by Rivals. He was named to the All-Southeast Region team by PrepStar and was No. 13 on the Birmingham News' list of the Alabama Super Seniors. Landrum was both a linebacker and running back in high school. He helped Sweet Water to a 2010 state title and earned MVP honors in the championship game in which he recorded an 8-yard touchdown run and seven tackles and a fumble recovery. As a junior, he totalled 68 tackles with 12 sacks and 974 yards rushing.
Garrett was ranked No. 12 nationally among outside linebackers by Scout and the No. 66 prospect from the state of Georgia by Rivals. The Atlanta Journal Constitution ranked him at No. 46 in its Fab 50 list. Garrett was selected to play in the Offense-Defense Bowl in Myrtle Beach, S.C. following his senior season. He was also named to the All-DeKalb County team as a senior after collecting 70 tackles including four sacks and forcing two fumbles.
Secondary
The Tigers can now add five defensive backs to their 2011 roster thanks to this signing class.
Chizik wasn't candid about how thrilled he is about that.
"I could not be more excited," Chizik said.
He added that finding players with experience on offense was a key to building this secondary class.
"Our idea is the more athletes, even when you play them in the secondary, the more they've had their hands on the ball, they've touched the football and they're used to doing that, then I think you build in the ability back there to get turnovers and make interceptions and things of that nature," Chizik said.
Chizik says: "Obviously from this state he is a huge 'get.' Just a tremendous athlete, great student. Just one heck of a football player. He can play so many different positions like he did in high school, but obviously we think he's going to be a great safety for what we're trying to do. We think he brings a great speed element back there, he loves contact. And I think he's going to be really good at that."
Swain was named the nation's No. 24 defensive back and No. 11 player in the state of Alabama by Rivals. He was ranked No. 13 on the Mobile Press-Register's Elite 18 and was No. 14 on the Birmingham News' list of the Alabama Super Seniors. Swain totaled 27 total tackles throughout his senior season with one sack, three interceptions, six pass break-ups, one forced fumble and two fumble recoveries.
Chizik says: "Really a dual guy, can play safety or corner. That's what we really love about him. He's got flexibility in his game and what he brings to the table. Just a phenomenal young man. Played some tailback and just a great, great young man."
Chizik says: "We're excited about him. This is a great player out of Mississippi that has the ability to play probably numerous amount of things. But we want to play him at corner. He's another guy that in high school had his hand on the football a lot, so he was a very good and exciting player offensively as well. He's got great speed, good size."
Rose is already enrolled in classes at Auburn and will go through spring practice.
Chizik says: "We are thrilled to death. Another young man from the state of Alabama. We felt like he was the best corner in the state. Really, really big to have him on board with us right now."
Rose was named the nation's No. 3 cornerback by Rivals. He had 73 tackles and five interceptions during his senior year and helped his team win the 3A state title. He returned an interception 84 yards for a touchdown and scoring on a 38-yard pass reception in the title game.