Forward looking forward to bright future at Auburn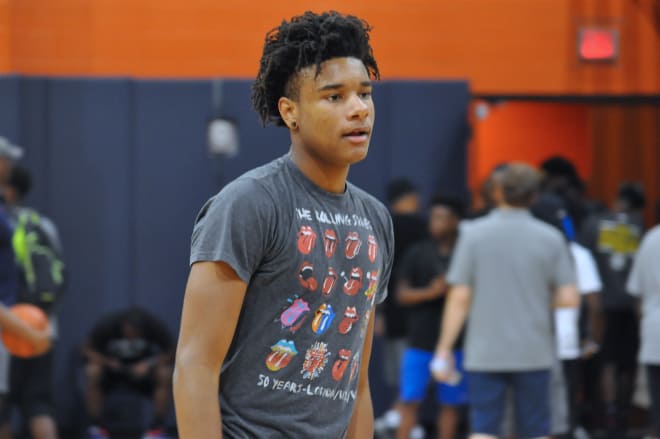 AUBURN | Westlake-Atlanta forward Chuma Okeke wanted to attend college close to home. He wanted to play for a program on the rise, for one led by a reputable coach.
Auburn had all of what Okeke was looking for in a school, which resulted in him committing to the Tigers in July.
"It's close to home and I have a good class coming in with me with Austin Wiley and Davion Mitchell," Okeke said. "And the coaching staff, I really like how they do things."
Okeke, who is ranked No. 57 overall in the 2017 class, got a chance to meet his fellow commitments Sunday when he attended Auburn's Elite Camp. The four-star recruit already was familiar with Mitchell, having played with the point guard for the Georgia Stars on the AAU summer circuit. Okeke's relationship with Wiley, although relatively new, continues to grow.
The three players combine to give Auburn the No. 1 class in the country, the Tigers' highest-ranked recruiting class in the Rivals.com era.
"They played a big factor," Okeke said of Wiley and Mitchell. "I think we can make it to the (NCAA) Tournament, and not only make it, but have a good chance of winning it. I think we have a really bright future at Auburn."
It also helped that the Tigers have Bruce Pearl at the helm, who is the second-most winningest coach in the SEC.
"Coach Pearl is a great coach," Okeke said. "He's not afraid to get on you and make you a better player. He gets along well with his players off the court, and when he gets on the court, it's business time."
Okeke, who stands 6-foot-7 and weighs 225 pounds, also has developed a strong relationship with first-year Auburn assistant Chad Dollar, who also is from Atlanta.
"I like Coach Dollar," Okeke said. "He's a good coach, and we are from the same area, that College Park area."
The coach and recruit spent time together Sunday at Auburn. Okeke didn't participate in the camp, electing instead to better familiarize himself with his future teammates, coaches and campus.
"I'm still getting comfortable with Auburn, so I wanted to come and just chill, hang out and get a good feel for it again," Okeke said. "I like it here and am ready to be a part of it."
Okeke plans to return to Auburn for the Tigers' football game against Clemson. He hasn't scheduled his official visit, but plans to soon.
"I'm not planning on visiting other schools," Okeke said. "I'm done."