2024 OT planning return after 'great' first visit
It was Chase Malamala's first time in Auburn Wednesday, but it won't be his last.
After his unofficial visit Wednesday, the 2024 offensive tackle is already planning to return for a game in Jordan-Hare Stadium this fall.
"It was great," Malamala said. "I got to meet all the coaches for the first time in person and see what they're building around here as a program — literally building. I saw the new facility, it was cool."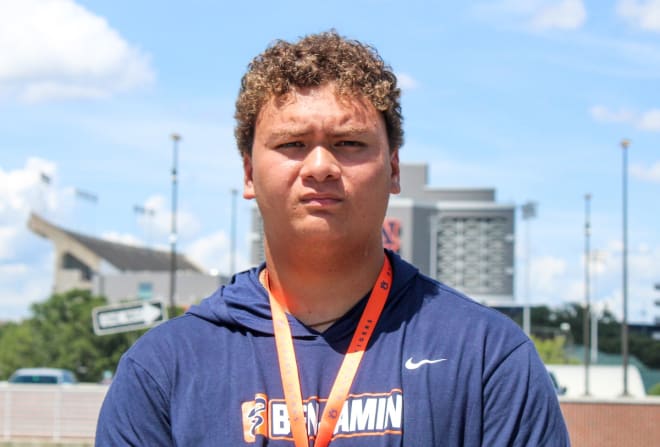 Meeting several members of the coaching staff highlighted Malamala's visit, especially offensive line coach Will Friend. The two talked football and also about life in general, as Friend and Malamala start building a relationship.
"We're just starting to nurture that relationship," Malamala said. "It's my first time meeting him in person since my offer in the spring. I think it's gonna be a good, long-lasting relationship."
Malamala traveled with his mom and dad from their home in North Palm Beach, Fla., where he attends The Benjamin School. He holds two offers — Temple and Auburn — as he wraps up his summer. He'll now shift his attention to fall camp, which begins Aug. 1 for him.
What excites him about this upcoming season? Just being back on the field.
"I get to play football again," Malamala said. "I love playing football. It's working hard and really showing people what I got."