Auburn still on top for Emory Floyd
Emory Floyd named Auburn as his top school over a month ago. After an official visit, Auburn remains on top.
"They're still No. 1, I really like Auburn a lot," Floyd said. "Everything around here is homey and I just love the school a lot."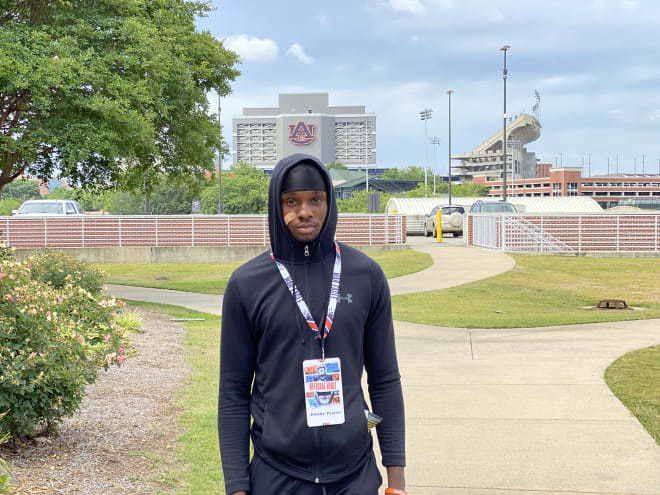 The 2022 3-star safety from Powder Springs, Georgia, is in no hurry to make a commitment, saying he planned to commit "around August."
While Auburn remains on top, Floyd named Georgia as his No. 2.
During his official visit, Floyd was paired up with current Auburn corner Jaylin Simpson as his mentor for the weekend. Floyd enjoyed his visit and getting to know Simpson.
"It went really good," Floyd said. "I love the atmosphere and the players here. I bonded with Jaylin Simpson, he a real cool guy."
Floyd also bonded and became friends with Darrius Clemons, the 4-star receiver out of Oregon who was on his official visit.
Getting to meet some of the current players was the highlight of the visit for Floyd.
"Really just meeting the players and going inside the dorms and seeing how they operate and them teaching and mentoring me," Floyd named as the highlight.
Along with talking to current players and the other official visitors, Floyd spent extensive time talking to defensive coordinator Derek Mason and cornerbacks coach Zac Etheridge.
"They were like old and know the game a lot so I really bonded with them and learned more," Floyd said about the coaches he spent time with.
The message from Auburn's coaches to Floyd was clear.
"I can come in and be an impact player, just gotta work hard and do what I gotta do to come in and be successful," Floyd said.
NOT A MEMBER?
JOIN AUBURNSPORTS.COM TODAY to enjoy around-the-clock content including stories, analysis, videos, podcasts, call-in shows and The Greatest Message Board In The History of The Internet.