Auburn 'a special place' to 4-star DB from Virginia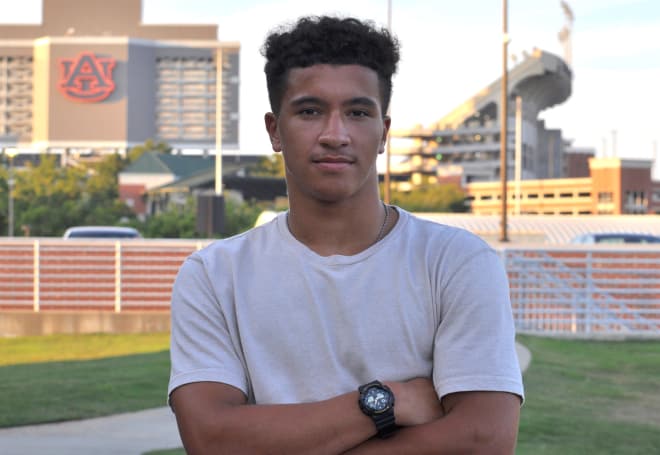 AUBURN | Four-star defensive back Cam'Ron Kelly had wanted to visit Auburn since early in his recruitment.
On Saturday, he did.
Kelly, from Chesapeake, Va., made the trip to Auburn for the Tigers' BBQ.
"I've always wanted to come down and visit Auburn, and all of my expectations were met and even more," Kelly said. "It's a very special place. I love the culture. I love the coaches. I love everything about it."
Visiting Auburn isn't typical for top recruits in Virginia, but the Tigers made Kelly a priority. The attention paid off.

"My interest in Auburn came from my relationships with the coaches: Coach (Marcus) Woodson, Coach (Greg) Brown, Coach (Gus) Malzahn and Coach (Kevin) Steele," Kelly said. "They are all great guys and have been recruiting me. I've been on the phone and Facetiming with them. They have been there every step of the way. It was an amazing opportunity to come down here and meet them. They were pumped up I was here."
Kelly plans to return to Auburn, but is unsure if it will be an official visit. He already has taken four of his five official visits (Oklahoma, Penn State, Virginia and Washington State) and is considering Auburn, Georgia, Notre Dame and Virginia Tech for his fifth.
"I'll probably be back for the LSU game," Kelly said. "I haven't decided where I'm going to take my last official visit to, but Auburn is definitely in the high running."
Kelly, who graduates in December, hopes to announce his commitment in October.
Rivals ranks Kelly, who is 6-foot-1 and weighs 200 pounds, the No. 5 player from Virginia and No. 184 in the Rivals250.