Tigers land 'hell of a football player'
AUBURN | Bradley Ball has watched and coached Jayden Lewis since his 7th grade year.
And there's one thing he knows above all others in what Auburn is getting in the 4-star cornerback from Anniston (Ala.) High.
"Auburn is getting a hell of a football player," said Ball, the Bulldogs' interim coach.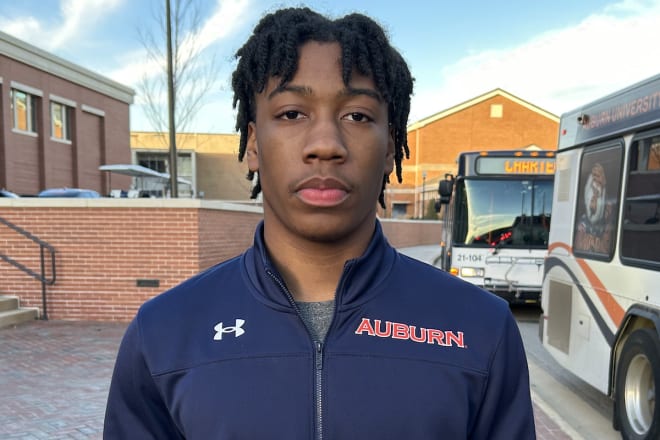 Lewis, who goes by Jaymoney, committed to the Tigers Wednesday afternoon over more than 20 offers including South Carolina, Tennessee, Arkansas, Ole Miss and Florida State.
His varsity career at Anniston started way back in the 8th grade.
"We put him in at quarterback his 8th grade year as we moved him up to varsity to finish the season, and the first snap he took it to the house like 70 yards," said Ball.
Lewis, 5-foot-11 and 175 pounds, has concentrated on defensive back since the 9th grade.
"He plays cornerback, safety and some nickel for us. Wherever the dominant receiver is, that's where he's going to be," said Ball. "He can take away a side of the field himself with his length, his speed and his aggressiveness.
"He's very physical. He'll come down and hit a tackle. That's another plus about his game."
A varsity captain as a junior, Lewis is also a dangerous return specialist.
"The season before last he had the state record for five punt returns for touchdowns. He returns kicks too," said Ball. "That's a great part of his game that people don't know."
In addition to football, Lewis is also a standout in basketball and track.
"He's the face of Anniston," said Ball. "He's a three-sport athlete. He's a basketball captain this year as an 11th-grader. He won a state championship last year as a sophomore in track. He's just a winner.
"It's just his overall work ethic. He's just a technician when it comes to every sport he plays whether it's football, track or basketball."
Lewis is Auburn's second commitment in the 2024 class. He's rated the nation's No. 22 cornerback and No. 238 overall prospect.