New Additions: Meet Auburn's 9 signees from Wednesday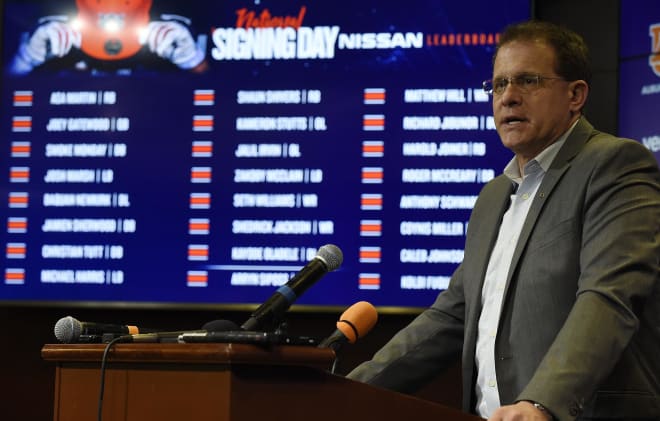 AUBURN | Auburn added nine signees on Wednesday giving the Tigers a total of 24 in the 2018 class.
Auburn signed a punter, two wide receivers, a running back, three defensive linemen, an athlete and a cornerback. Gus Malzahn talked about each of them during his Signing Day press conference.
Below is a profile of the nine signees and what Malzahn said about them.

BIO: Punter who trained with Pro Kick Australia and Coach Nathan Chapman … played five seasons of professional soccer with St. Kilda in the Australian Football League, scoring 22 career goals … graduate of Hallam Senior Secondary College in Hallam, Victoria
MALZAHN: "He played Australian Rules football. He's not your average kicker. He's an athlete. He has a great leg and I think he's really going to help us. I'm excited about him."
BIO: Explosive wide receiver who led the Brookwood Broncos to an 11-3 record and the Georgia state Class 7A final four … also played strong safety for Coach Phillip Jones … Under Armour All-American Game … Atlanta Journal-Constitution Super 11 … GSWA all-state and Gwinnett Daily Post offensive player of the year … Rivals, 247Sports, ESPN four star … Rivals No. 7 athlete nationally … Scout No. 14 overall prospect in Georgia … also a track and field letterman
MALZAHN: "He came to our junior camp three years in a row. We recruited him for a long period of time. We feel he is one of the better football players in the country. He can do it all. We're very excited about him. He is going to play wide receiver for us. He's the type of guy you want to get the ball in his hands."
BIO: Defensive prospect who played on both sides of the football for Coach Chris Williams at Athens Christian High … first team GSWA Class A all-state … terrific athlete with great work habits … ESPN, Rivals, 247Sports four star … native of Nigeria … also a track and field and basketball letterman
MALZAHN: "When I think of him, I think of speed and I think of upside. For his high school team, he played offense, defense, wide receiver. He can do a lot of things. I think he has a chance to be a dynamic player. We really expect him to be a very good pass rusher."

BIO: Versatile offensive threat from Birmingham's Mountain Brook High … scored 16 touchdowns as a senior for Coach Chris Yeager … U.S. Army All-American Bowl … Alabama-Mississippi All-Star Game … also a basketball letterman … Rivals, 247Sports four star … 247Sports' No. 4-ranked player in Alabama
MALZAHN: "When I think of him, I think of versatile. I had the chance to coach (former Tulsa tight end and current Buffalo Bills tight end) Charles Clay a few years back and I think they are from that same mold. We really feel strong about him coming out of the backfield and stretching the field vertically. He can do a lot of different things with the ball in his hands."

BIO: Versatile cornerback prospect with unlimited production … eight interceptions and more than 100 tackles as a senior for Coach Dedrick Sumpter at Williamson High … also had more than 2,100 offensive yards … first team Class 5A all-state … Rivals, 247Sports three star … also a basketball letterman
MALZAHN: "We really focused on speed, and he's one of the fastest guys in the state. We think his upside is very good. He's a super young man, high character and makes very good grades."

BIO: Dynamic deep-play receiver … helped the American Heritage Patriots to back-to-back Florida Class 5A state titles under Coach Patrick Surtain … Under Armour All-American Game … Rivals, 247Sports, ESPN four star … No. 10 WR nationally by ESPN, No. 28 by 247Sports, No. 31 by Rivals … No. 18 prospect in Florida according to ESPN and No. 25 by 247Sports … Broward County track and field athlete of the year as a junior and an all-USA sprinter … set a world youth record with a 10.15 100m in the Florida Relays
MALZAHN: "He's the fastest guy in the country. He is also going to run track for our track team, but he's a football player. We really believe that this guy has a chance to be special, just from the standpoint that he got better and better throughout his high school career and he has that drive to be special. We are very excited about him."
BIO: Imposing defensive tackle prospect from Jackson-Olin High in Birmingham … high school coach was Tim Vakakes … Under Armour All-American Game … Alabama-Mississippi All-Star Game … Rivals, 247Sports, ESPN four star … No. 12 defensive tackle nationally by Rivals, No. 13 by 247Sports, No. 14 by ESPN … also plays basketball
MALZAHN: "He was a priority for us. Everybody in the country came after him late and he hung in there with us. He's a very good athlete. He played Wildcat quarterback, he can windmill dunk and he's 300 pounds. We're very excited about this guy."
BIO: Productive talent who recorded 104 tackles, 16 TFL, eight sacks, two blocked kicks and three defensive touchdowns as a senior for Coach Morgan Ingram's Northside Patriots … GSWA Class 4A state co-defensive player of the year … Columbus Ledger-Enquirer All-Bi-City big school defensive player of the year … first team all-state as a junior and senior … Rivals, ESPN, 247Sports three star … also a baseball letterman
MALZAHN: "He really stood out to us. He came to our camp and ran a 4.7 (40-yard dash). He played a lot of positions for his high school and really feel as though he gives us a lot of flexibility to move him around. He's a very good athlete. We're very excited about him."

BIO: Versatile athlete who played both wide receiver and defensive back for Coach Jimmy Gay at Cordova High … selected for Alabama-Mississippi All-Star Game … ASWA first team all-state as a sophomore, junior and senior … ESPN, Rivals, 247Sports three star … also a basketball letterman
MALZAHN: "He's an athlete who has been committed to us for a long time. We really feel like he can play both sides of the football. He has great ball skills. He can do a lot of different things for us."