A look at the offensive signees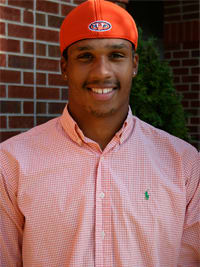 The Tigers have not only lost four of the five offensive line starters from 2010, they also lost their starting quarterback and a receiver who opted to leave a year early for the NFL draft.
Auburn also lost two senior receivers and a multi-talented running back.
Considering those departures, any of the dozen offensive signees could have the opportunity to earn early playing time in 2011.
"We felt like we had to really do a great job of evaluating of not just are they really, really good high school players, but what is the probability that they could come in and play young?" Chizik said. "That was one of the biggest criterias. We feel like everyone of these guys has the ability, depending on how fast they learn, to come in and help us immediately. That was the idea on every offensive lineman that we brought in."
Even though the Tigers are coming off a national championship, Chizik believes this recruiting class is a step toward making Auburn a top-notch program.
"We're just happy for the Auburn football family today because we really believe that this is another brick, I guess if you will, in the foundation of what we're trying to build," Chizik said. "We're still not there yet. We're definitely not there, we have not arrived by any stretch of the imagination, but we do feel like this again is going to put us in the right direction of where we'd like this program to head as we move down the road."
Offensive linemen
Two linemen are already enrolled in classes and will go through spring practice. The other two are contenders for seeing early action at Auburn if they can learn the offense quickly.
"There's still phenomenal opportunities to come in here and play young," Chizik said. "The senior class we lost was extremely large, which is exactly the way you want it. It creates opportunities for young guys to come in and play while they're young. Some of these guys are definitely going to have to do that. There's a good amount of guys on this signing list that we're going to have to count on to come in and play."
Chizik says: "A great, great sign out of Spanish Fort. He's got a great chance to come in and compete for a job right now. He's already in school, he's doing that."
Dismukes led his team to the 2010 Class 5A state title. He had been starting since his sophomore season and didn't allow a single quarterback sack in both his sophomore and junior seasons.
Chizik says: "Same thing. He has a great chance to come in and compete for a job and do that."
O'Reilly is already enrolled in Auburn classes. He was named to the All-Southeast Region team by PrepStar and was selected to play in the 2011 Under Armour All-America game following his senior season.
Chizik says: "I can't say enough about his family. Just the recruitment process of him... The ability that we think he has and what he brings to the table and the opportunity for him to come in here and help us right now. This young man on film now, he's dynamite. It's just going to be how fast he can get used to the college game."
Chizik says: "Just another unbelievable athlete. Great size, great athletic ability. Guys like that we think have a chance to come in and help us right now."
Running backs
Chizik says: "Really excited about Tre. Just a young guy that we brought in and really started recruiting during the season. Played in a very tough league down in Florida. Sophomore year he rushed for somewhere around 1,500 yards, junior somewhere around 1,400, senior year somewhere around 1,600 yards give or take. Don't hold me to that, but it's close.
"Just a kid that we really felt like with Michael Dyer back there, Onterio McCalebb back there, was a great compliment and great mix for what we're trying to do there. He's a very good fit. He's going to be, at the end of the day, a 200-plus-pound running back. He's got great vision, he makes great cuts out there and he's a got a knack for it. He's a natural. And I think in our offense we'll be able to do various things with him. He's just a great fit for what we're looking for.
"When Tre comes in we're going to figure out what he can and can't do within the offense. How fast he learns it will dictate how fast he sees the playing field. We're going to expect him to come in and play. A lot of people do it in reverse, they say we're going to expect you to get redshirted until you show you can play or whatnot. We come in and say we expect everybody to play until basically we feel, after heavy evaluation, that you're just not quite ready."
Receivers
Some players could get their first taste of college football on special teams and eventually move into offensive roles.
Coates is considered the No. 21 player from the state of Alabama and No. 71 receiver in the nation by Rivals. He helped Leroy High School win the 2A state championship in 2010 and was named the game's MVP. As a senior, he caught 57 passes for 1,170 yards and 14 touchdowns. During the championship game, Coates recorded five catches for 60 yards with two touchdowns. He also rushed six times for 27 yards and a score, punted twice for 63 yards and returned a punt for five yards.
Rivals considers Denson to be the nation's No. 24 wide receiver and No. 5 player from Alabama. He was selected to play in the Alabama-Mississippi All-Star game following his senior season. In his final year at Hoover High, Denson recorded 63 catches for 1,059 yards and 12 touchdowns, including eight passes for 124 yards in the 2010 Class 6A state title game.
Quarterback
This recruit was already a part of the signing class long before Newton decided to leave Auburn after his junior year and enter the NFL draft.
Kiehl Frazier, 6-foot-3, 210 pounds, Springdale, Ark.
Chizik says: "He is one of the heart and souls of this class. I told him today on the phone how much I appreciate him. He's never once wavered, never once thought about anything except helping recruit a great class. He's been our 'A' No. 1 guy that has gone out and talked to all the other kids about coming to Auburn.
"He's been Auburn through and through since the day he committed and doing it from a hard position, which is in the state of Arkansas and leaving his home state, which is hard to do. He's just been great.
"We think he's going to be a tremendous addition obviously. He's got some previous reps built up in an offense that's very similar to the one we run here. That's going to be a huge advantage for him. Just great to have him and his family on board, couldn't be more proud to have him and what he's brought to the table for our recruiting class."
Athletes
Several signees have the athletic ability that makes them multifaceted additions to the 2011 class. Chizik said he and the coaches will just have to wait until these athletes start practice to decide where they will end up playing.
Chizik says: "Quan is one of the most exciting players in the state of Georgia and he can do it all. He can do it all. He, in our offense, will be a guy that you're really going to have to find where he is to find out what we're doing with him.
"He's got the ability to play wildcat, he's got the ability to play tailback, he's got the ability to play wide receiver. There's so many things you can do with him and he just loves having the ball in his hands. He's exciting, he's electric with his hands on the football."
Bray rushed for 1,300 yards and added another 300 yards receiving as a senior. He accounted for 2,128 yards of offense and 28 touchdowns as a junior.
Chizik says: "Really great story with him out of North Gwinnett. He's a young man that's played quarterback, he's played wide receiver. For us in our offense right now he could be a wide receiver, he could be a quarterback if we needed him to be. He could be a tight end type guy and use him for those type of duties. He's a big kid, very athletic. I just think that it's a unique blend for him of size and speed that allows you to do a lot of different things with him."
Uzomah threw for 238 yards with two touchdowns, rushed for 74 yards and had 168 yards receiving with one touchdown in his senior campaign.
Chizik says: "He is really a unique individual out of North Carolina. He's played wide receiver and he's played linebacker and he's very good at both. We're going to kind of tinker with that a little bit when he gets here and find out ultimately what his final destination is going to be. We just know that he's a great player and that's one of the guys that we'll kind of figure it out once he gets here, but we knew we had to have him here at Auburn."
Tight end
Fulse was named the nation's No. 10 tight end, the No. 30 player from the state of Florida and the No. 162 player in the nation overall by Rivals. He was named a PrepStar All-American and was rated the No. 63 recruit from Florida by SuperPrep. Fulse was also selected to play in the 2011 Under Armour All-America game. He recorded 43 catches for 730 yards and 10 touchdowns as a senior while recording eight sacks on defense.