Tigers hard after Georgia safety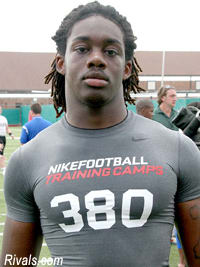 The state of Georgia never fails to produce top level talent, and Auburn is back in the Peach State looking for a top safety prospect in 2011.
Stone Mountain (Ga.) Stephenson safety
Kadetrix Marcus
is quickly becoming one of the more highly sought after recruits in the south, and Auburn is among his leaders.
The 6-foot, 182-pound safety has had a busy spring and summer so far, visiting schools across the southeast, including a recent visit to Clemson earlier this week.
Marcus, a three-star safety prospect, and the no. 21 safety in the nation, has around seven or eight schools right now that he said he's really interested in.
One of those is Auburn.
Marcus was in Auburn for Big Cat Weekend last month, and it wasn't his first trip to the Plains in the last year.
"Last time I was there was for Big Cat," Marcus said. "There were a lot of good things. We got to gel with other recruits and see the coaches on a different level. That was like the third or fourth time I've been there."
Auburn safeties coach
Tommy Thigpen
is recruiting Marcus to Auburn, and Marcus is impressed with the attention so far.
"Coach Thigpen is recruiting me," Marcus said. "He's a good person, down to earth, real cool guy."
Marcus mentions that two SEC schools are on him the hardest right now, saying, "Auburn and South Carolina," are recruiting him the hardest. When asked if Auburn and South Carolina were his top two, Marcus said, "they are up there."
But more schools have been showing him increased interest as of late as well, saying, "...now West Virginia, Clemson, and Tennessee are coming on."
With around 24 offers according to Marcus, his top eight schools mentioned right now are Auburn, South Carolina, Tennessee, West Virginia, Clemson, South Florida, Miami, and Minnesota.
Marcus says he will make a decision, "when the time is right, pretty much."
Marcus says he plans to make it to an Auburn game this fall, and would like to take visits to West Virginia and Tennessee before the season starts as well.
Marcus also said he was going to try and make it to Auburn's last Senior Mini Camp this summer in July, but those plans aren't set in stone yet.