Robinson ruled ineligible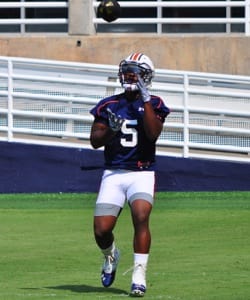 AUBURN -- Jovon Robinson will not help the Tigers this fall.
The freshman tailback has been ruled ineligible after an investigation found that at least one of his grades at Wooddale High in Memphis was changed without proper approval.
It's unclear how the ruling will affect Robinson's short- and long-term standing with the NCAA. He may be in position to file for a waiver to remain on scholarship through the 2012-13 school year without the possibility of varsity action.
He also may be forced to head for junior college.
A guidance counselor from Robinson's high school resigned recently after admitting to falsifying a student's grade report. That student is Robinson.
It's unclear why the guidance counselor changed the grades and when they were adjusted. Sources familiar with the case said Auburn has not been implicated in the manipulation of Robinson's grade report.
Robinson was a four-star recruit who committed to the Tigers in July 2011 after considering rival offers from Arkansas, Georgia, Clemson and Florida State among others. He signed with Auburn in February, arrived on campus in May and earned almost immediate approval from the NCAA Eligibility Center.
He opened fall camp with the Tigers on Aug. 1, but was pulled from practice prior to the team's workout on Aug. 10.