Four-star RB talks recruiting, AU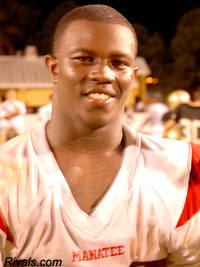 It's only the end of June, and the recruiting process already seems to be weighing on Bradenton (Fla.) Manatee running back
Mike Blakely
's mind.
Blakely has taken trips to Auburn, Florida, South Carolina, and Clemson among others so far this year, and so far he's liked what he's seen from all of them. Blakely has had such a good time at each place he's been, he's having a hard time finding things wrong with the visits.
"You keep going to another school and another school and feel like that's the place, it's hard," Blakely said. "Basically, the schools that I go to are the ones that have a real good chance. The time I spend with the coaches and the people I'm around, that's how I evaluate, can I see myself playing there."
Blakely says he's visited Florida and South Carolina recently. He visited Auburn at the end of May as well. He was impressed with his Florida visit, and is likely heading back to Gainesville for Friday Night Lights at the end of July.
"It went alright, got to talk to coach Urban Meyer," Blakely said. "I just watched the camp a little bit. We talked about playing time, he wants the best players on the field."
There's been much talk that home state school Florida has taken over the lead for Blakely recently, but he maintains that any lead Florida, or any other school has at the moment, is minimal.
"Not really," Blakely said about Florida. "They can be a leader, but Auburn, Florida, and South Carolina are so close to each other, it's hard to say."
While Blakely is having a hard time naming a true leader, he at least knows the three SEC schools that are atop his list right now.
"Auburn, Florida, and South Carolina are basically my schools," Blakely said. "All three are real high up there, all neck and neck."
Blakely says all three schools have appealing factors right now as well.
"Location is big," Blakely said. "All of them are manageable to get to. I have a close, close friend going to South Carolina, so that's nice. At Auburn, they treat you so nice up there, it's crazy. It's almost too good to be true how nice they treat you at Auburn. At Florida, they treat you the same way, I like them a lot."
Blakely actually named Auburn his leader after a trip to the Plains for Big Cat Weekend. He still maintains heavy interest in the Tigers.
"I'm very interested in Auburn," Blakely said. "I was down there for Big Cat, and all the recruits are real cool, nobody acted like they were better than the other. They were all just real chill."
Auburn special teams coach
Jay Boulware
has been Blakely's lead recruiter, and Boulware seems to have made a positive impression on the four-star running back so far.
"He's real cool, he's a nice person," Blakely said. "You can talk to him about anything. If you want to talk to him about football, you can talk football. If you want to talk to him about baseball, then you can talk baseball. Anything you want to talk about, he's cool with."
The highly sought after running back says he isn't sure if he'll take another visit to Auburn before the season, but it's not out of the question.
"I'll have to talk to the coaches and see what's going on," Blakely said. "I'll have to see if there's anything important going on for me to be there. See if any recruits will be down there."
The 5-foot-9, 194-pound back says he's thinking of making his decision in the middle of his high school football season. Even if he does commit then, Blakely says he would still like to take visits and enjoy the process.
One thing is for certain though, playing time will likely play a big role in helping Blakely make his ultimate decision.
"It's big, I've never not played," Blakely said. "I'm looking to play in the first game, I want to be in. I'm going to college for school, but I'm playing football. I want to get my grades, but I don't want to be on the bench, I want to play.
"Me and my running back coach we go back and do research on schools and see who they've signed and who they have at running back."
The Florida back is working hard and getting ready for the season right now. Blakely is working towards graduating early, and has plans to play in the Army All-American game at the end of the year as well.
As Blakely moves closer to his decision in the fall, he's hoping things get easier, but he won't let it effect him too much.
"It should be alright," Blakely said. "I know it will be a hard decision, but I'm hoping it won't be that hard."