Five-star RB commits to Auburn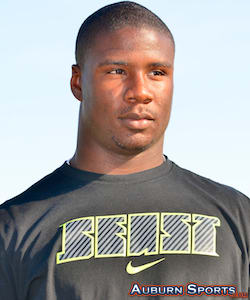 The five-star running back from Georgia Military College committed to Auburn on Thursday, he tells AuburnSports.com. He chose the Tigers over Alabama, Florida State, Georgia, USC and more.
"I have taken visits and evaluated every school that offered me the opportunity to be a part of their program, and after careful thought and consideration, I have chosen to verbally commit to Auburn University," Robinson said.
"I have a long relationship with coach Gus Malzahn, and have developed a strong bond with assistant coaches Rhett Lashlee and Tim Horton, who did an outstanding job recruiting me. I want to thank all of the schools and coaches that recruited me. The people I have met during this process have really inspired me and kept me focused. I am excited to have this important decision out of the way so that I can focus completely on the upcoming season at Georgia Military College, and accomplishing our goal of winning a National Championship."
Robinson, now 6-foot, 225 pounds, signed with Auburn in 2012 and arrived on campus, but his time on the Plains was short-lived. Robinson was ruled academically ineligible and departed after just one week of fall practice.
Robinson returned home to Memphis and sat out the fall of 2012. He landed at GMC during the spring of 2013 with renewed energy and spirit that was never more evident than last fall, when Robinson rushed for 2,387 yards and 34 touchdowns.
Robinson will have three years to play two at Auburn.
"It has been a true pleasure to be able to coach Jovon, and I am happy that he will have the opportunity to continue his football career at Auburn University," GMC offensive coordinator Ross Robinson said. "I enjoyed having the opportunity to recruit him, and I am proud of the way he has conducted the recruiting process this time around.
"Not only is Auburn getting a special talent and a great football player, but an extremely hard worker that is dedicated to making both himself and his team better. It has been exciting to watch him mature and develop both on and off the field during his time at GMC, and he has made a tremendous positive impact not only to the football program but the entire community.
"I look forward to coaching him this upcoming season, and watching his progress as a student-
athlete and as a person next year and beyond."
Robinson quickly became the nation's top junior college running back and arguably the nation's top junior college prospect overall after last fall.
That's when schools came calling again.
Robinson, at that point, knew what his decision would be, and he let the world know on Thursday.
"It's the same place that I left, just different coaches. Same players, the atmosphere is the same," Robinson said following his initial April visit to Auburn.
After Robinson's visit to Auburn in April, he said of Malzahn, "we talked about the plans he had for me the first go-around, you can only imagine what's going through my head then when I was coming out of high school. I had a fiery attitude especially with Gus knowing what he had planned for me to get into his system.
"Two of the best people connecting again. I shocked the world, he shocked the world, so what can we not do? It was a great experience talking to him. He was appreciative of me coming back and giving Auburn a chance. I took that into consideration."
Robinson becomes Auburn's 14th commitment and will graduate in December and enroll at Auburn in January.